Top 5 Striking Chandeliers for Hotel Lobby
---
Creating imposing large hotel lobbies may sound like a hardworking and demanding task. Selecting wall covers, interior architecture, and decor is a job that demands a clear vision of the final overall of the project when choosing components and colors to make it equilibrated and balanced. If you are working on the decorative parte of the hospitality project, here you will find some essential tips that will help you creating the best hotel lobby for the project. Castro Lighting has magnificent statement pieces that will immediately call the attention of every guest, making your hotel entry both bold and luxurious. Interested in knowing more? Here are the brand's top five striking chandeliers for large Hotel lobbies: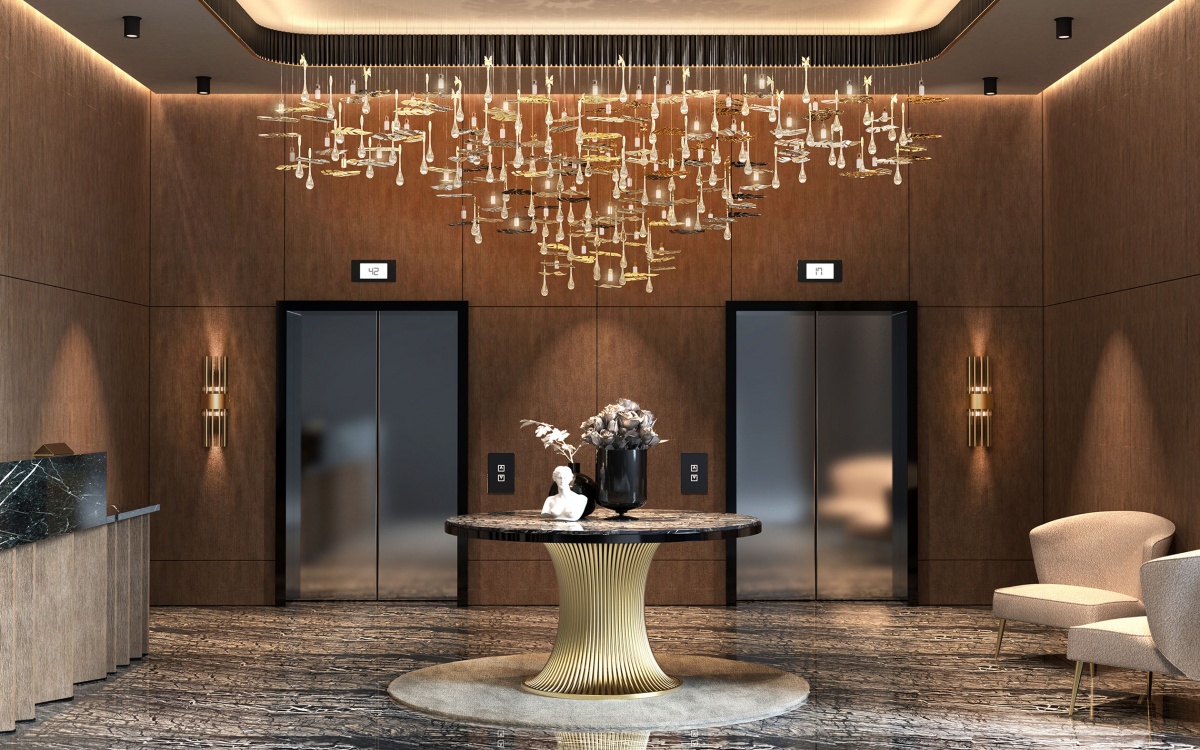 This elegant chandelier is unparalleled in the refinement and grace it represents. Rainforest Suspension is a chandelier that can be produced with 350 cm in width and 200 cm in depth. So, it can be the statement piece you need to use on your hospitality project. But if that is not enough - this design is coupled with clear crystal glass applied by hand bringing an exquisite charisma that resembles nature in full bloom. A broad-leaved masterpiece of modern lighting design featuring falling raindrops and butterflies taking each guest to a different dimension.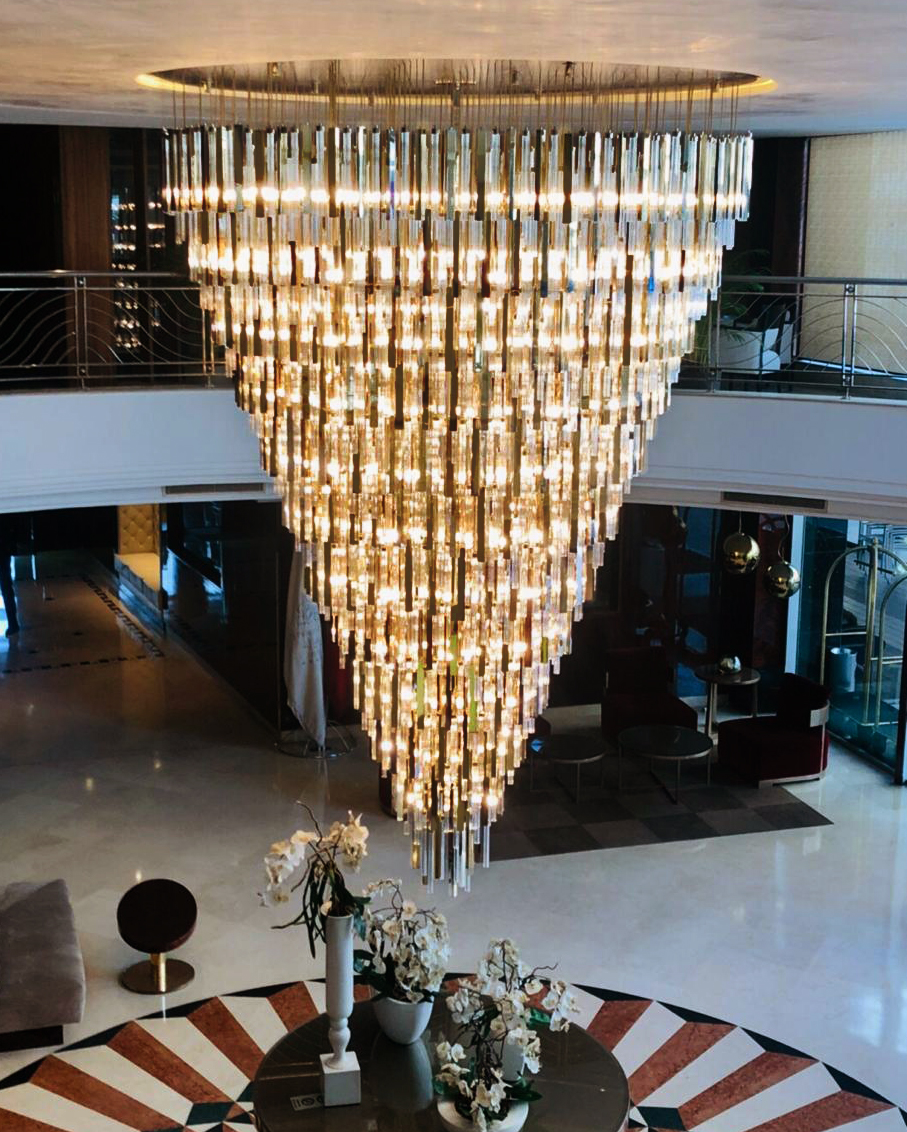 The Blaze handmade suspension lamp is an example of Castro Lighting's modern handcraft skills. 270 cm in height, this tall chandelier is composed of 7 layers of more than 500 single hanging pendants. This luxurious chandelier has alternating pendants of gold-plated brass, prime glass, and light bulbs that create a blazing effect as the light bursts through the slight breaches of space between them. A vigorous and extravagant suspension that will leave you gasping and wondering.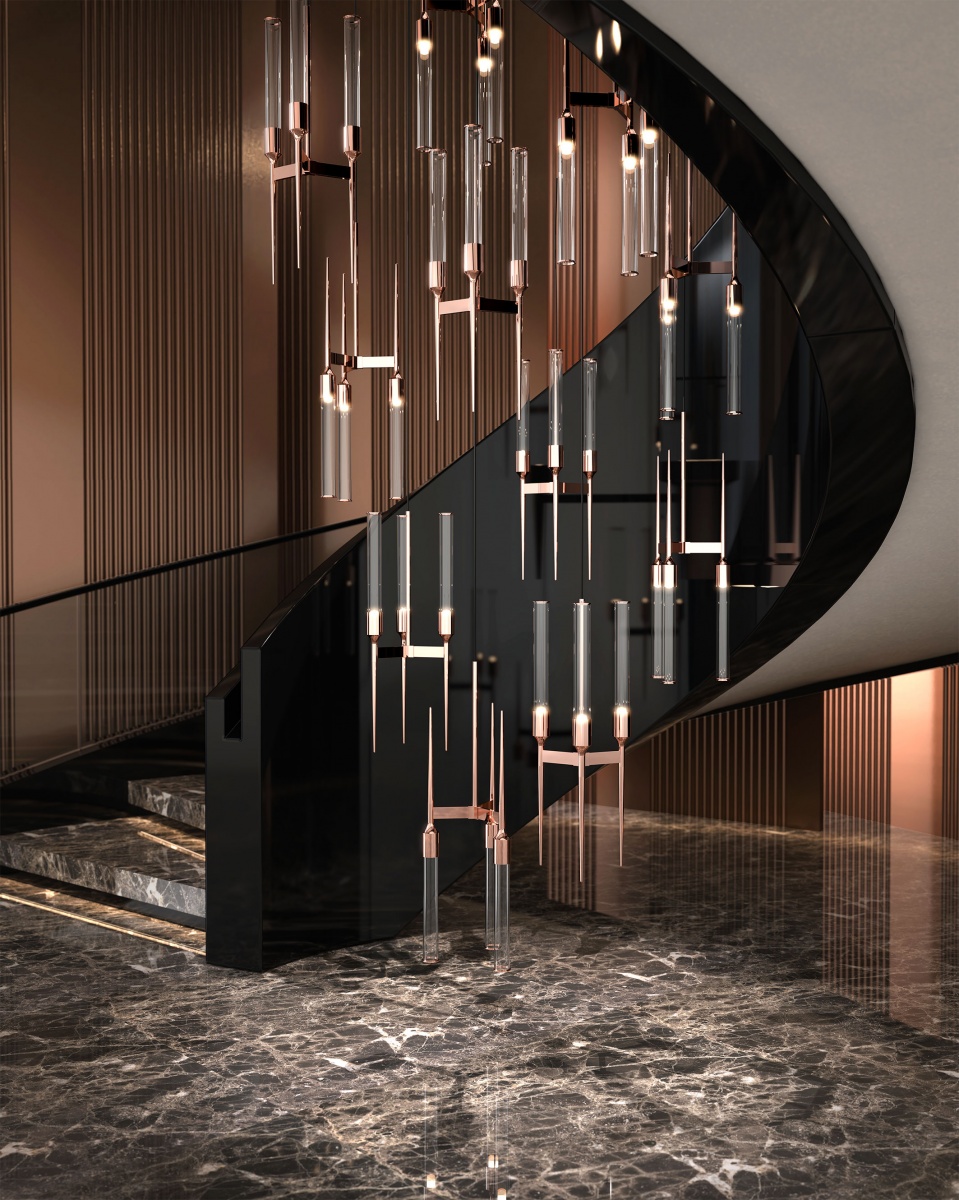 This elegant suspension is made of gold-plated brass, the strong lines create an organic movement of subtle brass tubes complementing the luxury chandelier with clear glass. Hammered by the hands of experienced Portuguese craftsmen, it is capable of transforming any space into grand adventurous scenery. This finest lighting design is a beautiful addition to complement any hotel lobby.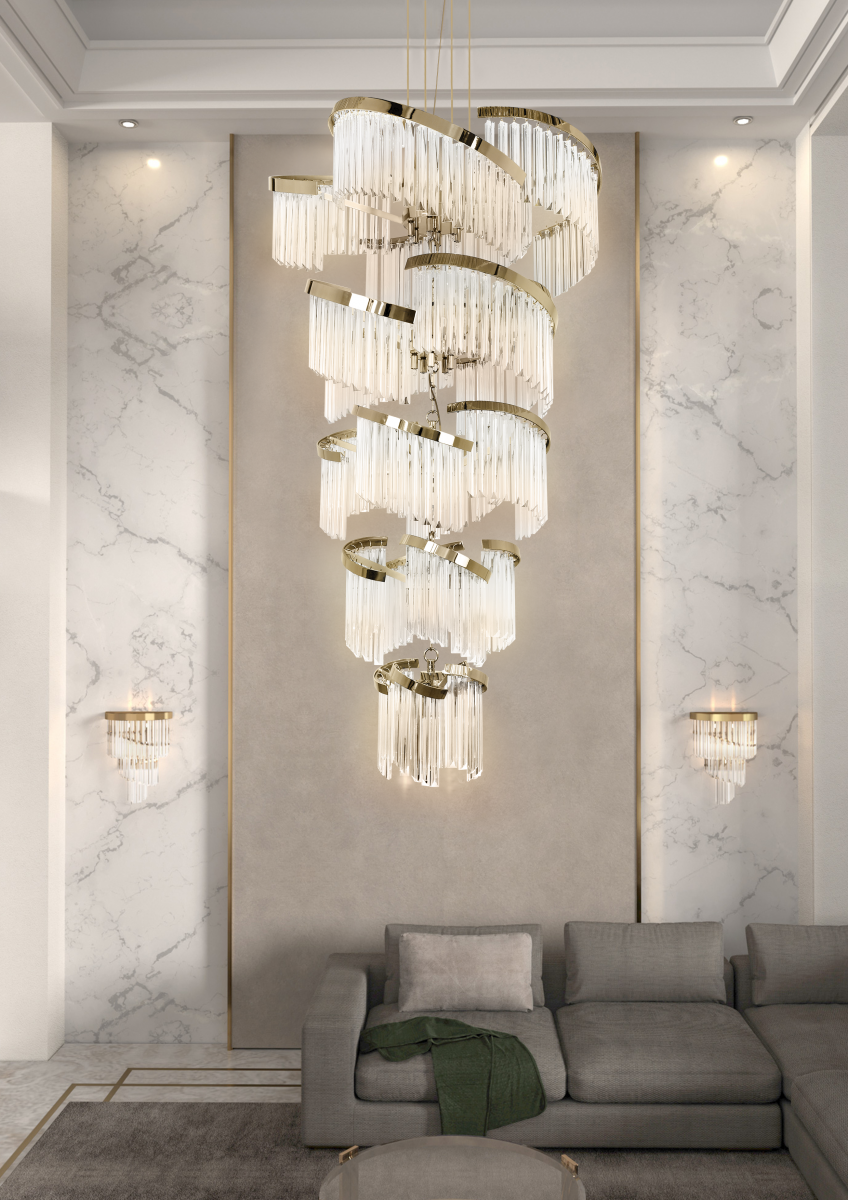 Twist suspension materializes the concept of twist in its design. The combination between the glass and the gold-plated brass structure gives this one-of-a-kind handmade lighting piece a sense of refinement that is unusually seen. This elegant design reminds the famous Victoria waterfalls in Zimbabwe as it gives the illusion of falling water. This chandelier is conceived to fulfill wide spaces like luxurious hotel lobbies and large exquisite staircases. Both striking and contemporary, this chandelier has in its lines a balance between past and present, essential to unique interiors that seek to enhance rich accents.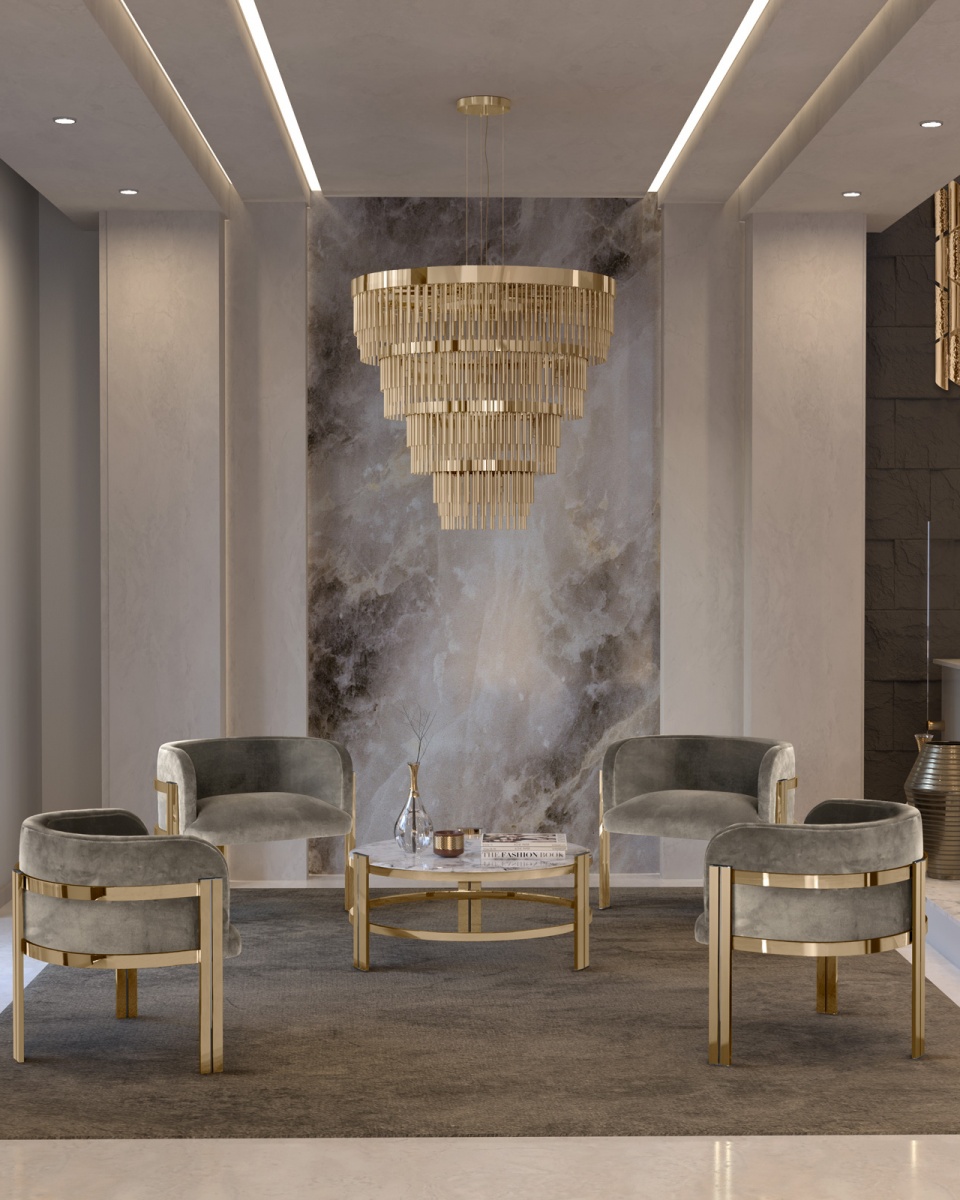 Streamline is versatile thanks to its details that will enrich the décor of a wide range of interior design styles. The shining gold plated finish confers an extraordinary beauty to the brass, enhancing its value as a noble material. It stands out for its design, becoming the perfect fit for curated interiors. This elegant suspension features long gold plated brass tubes that give the design a whole exclusive and deluxe look, setting another level with its distinctive appearance. This recipe of rich materials and sleek lines inspired by art-deco architecture make the Streamline suspension desirable.
All of these chandeliers can be customized in order to fit your project in the most proper, efficient way. From sizes to finishes - intervene with the design team and play with all the customization processes that Castro's has to offer. Making the chandelier exclusive and uniquely handmade to your interior design project.