Modern Lighting Collections to Adorn Your Home
---
Including chandeliers or table lamps in your home may seem like an easy decision it should be thought out since the lighting items you choose to make part of your interior decoration should represent well your personality and design style.
Bearing this in mind, Castro decided to prepare this article in which we present the collections that have aroused the most interest from our partners to help you find the best lighting solution for your project.
To get us off to the best start, please welcome a collection that needs no introduction due to its success – The Halma Collection. Halma was designed to celebrate the fusion of noble materials with simple and delicate geometry. Made with a structure of brass involved by clear crystal glass, this design unpredictably fuses the two materials effortlessly, granting it a cohesive and deluxe look.
Given its tremendous success, Castro decided to reinvent this collection through a special booklet presenting all the details of this marvellous collection. You can discover all the features in this collection, the different finishes each can have, and how they look in other interior design projects by accessing this booklet.
To pay tribute to the associated trendy game machine, the so popular, back in the day, Arcade game, Castro Lighting created this fascinating collection – The Arcade Collection - to honour it just the right way. Combining interior designers' favourite materials - brass and glass - with an iconic and timeless design makes this collection unique and much desired.
Another highly valued collection that aims to be an ode to art deco in luxury lighting design is the Streamline Collection. This collection was conceived to be distinctive and stand out for its design, becoming the perfect fit for curated interiors that combine a diversity of styles. Long gold-plated brass tubes give the design an exclusive and deluxe look, setting another level with its distinctive appearance. This recipe of rich materials and sleek lines inspired by art-deco architecture makes the Streamline collection desirable.
In the same way as Halma's Collection, Castro also reinvented this collection through an inspiring booklet where you can discover the idea conception for this collection, along with the creative process and how this collection looks in different projects.
It would be impossible to suggest you a lighting collection and not to mention the Rainforest Collection. This collection arose from the timeless lighting celebration of fabulous silhouettes, elements, and movements. Like in a forest, where you find different types of leaves, this collection also offers you an enormous range of diverse designs.
The possibilities are unlimited – The Rainforest Suspension, a broad-leaved masterpiece of modern lighting design ahead with falling raindrops and butterflies, brings to your interior the beauty of customization featuring components that cohabitate in forests. Also, the plafonnier, a new and different creation of chandelier, is unparalleled in its refinement and grace.
Among other features, like wall lights and floor lamps, review the entire collection here.
Immerse yourself in the magnificent atmosphere of the sparkling rainforest, where the art of brass craftsmanship becomes luxury lighting design.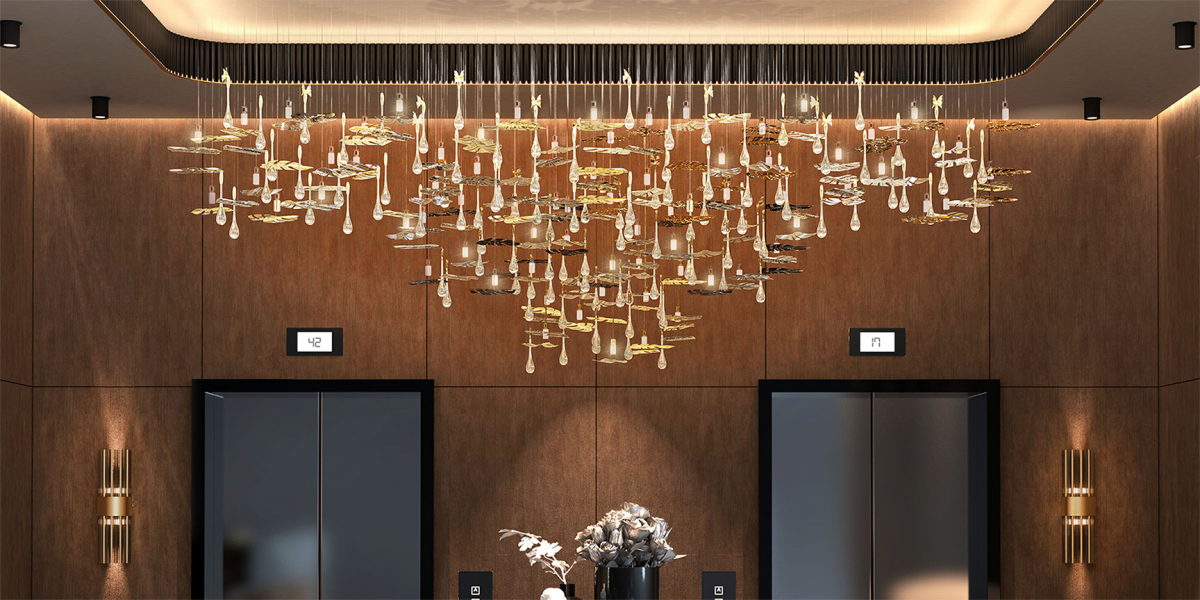 Last but not least, we introduce you to the Mastery Collection. This beautiful collection does justice to its name as the book Mastery by Robert Greene. Having the brass plates as a highlight, along with its modern and singular design, this lamp pampers the eyes while allowing being creative.
This design evokes the lives of the different historical personalities examined in the book, such as Charles Darwin or Mozart, as well as contemporary leaders. The delicacy of the different-sized pieces and the finishes used led to the name of this design, reminding the traits and universal ingredients that made these characters masters.
All of the different variations of this collection are wonderful yet the wall sconce version of this collection will bring a sense of sophistication and fantasy to your space when compared to others making your project unique.