LIGHTING AND FURNITURE TRENDS 2023
---
Every season brings a wind of change and new inspirations, celebrating each living space with individuality. This time, aesthetic freedom is expressed in elegant lighting and furniture collections full of innovations and design creativity to help you decorate in style. The curated selection of luxury lighting and furniture trends for 2023 was developed to impress design enthusiasts and inspire them to embody dreamy vision into reality. Complement living space with the new designs, accomplishing the atmosphere of elegance and stylish comfort. Solid design, innovative techniques, and soulful craftsmanship create an exclusive signature to any demanding interior. Let your ideas sparkle, boosting vibrant energy in each corner of the house.
TREND 1: GEOMETRICAL SHAPES
The popularity of geometrical shapes in lighting and furniture design takes inspiration from abstracted architectural installations and the unique motives of geometric silhouettes. The futuristic lighting fixtures symbolically portray the development of modern design and city architecture. This kind of outstanding lighting design can be applied to any interior: from modern classic style to contemporary, or mid-century modern. Feel the dynamism of this trend as ​the simple geometry of the brass elements complements the refinement of the interiors and permits to reveal of a new kind of energy and charisma.
This modern-day living space with a simple yet beautiful and modern arrangement highlights Roma Mirror, Canna Coat Rack, Mies Console, and Rainforest Plafonnier setting, manifesting geometrical inspiration implemented in furniture designs. A well-balanced flowing shape of luxury furniture highlights the essence of refinement taken to new heights. These aesthetic lifestyle decorative pieces are handcrafted from rich materials and finished with polished brass. Designed to reflect a vibrant gleam and serenity in the interior space.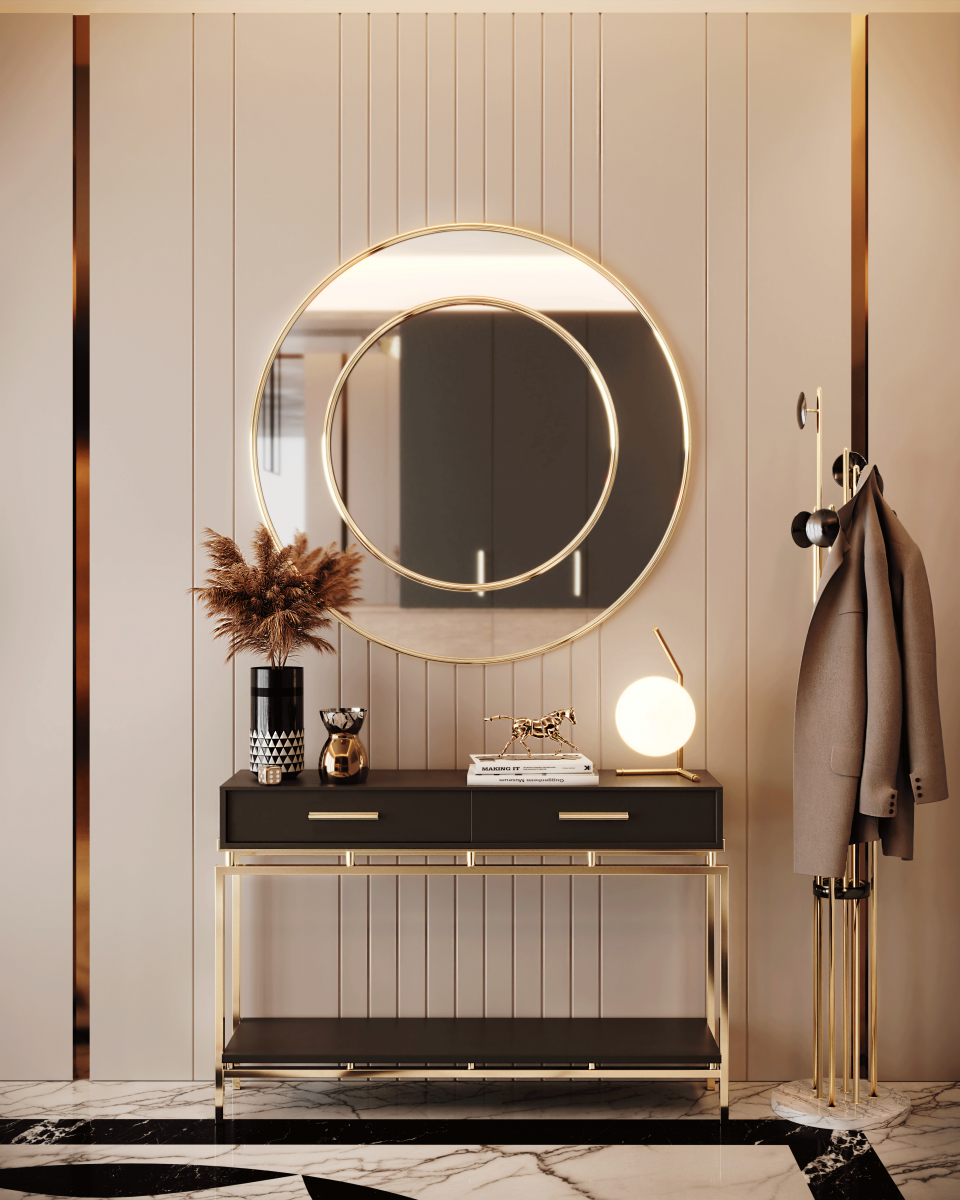 The Rolland Suspension was designed to cherish the synergy of noble materials with playful geometry. Implemented with a solid structure of brass involving two rows of clear crystal glass, this timeless design perfectly combines the two high-end materials in a free-flowing yet luxurious way, providing it with a modern and more minimalistic look. An elegant chandelier with architectural detailing and geometric elements that grant effortless ornamentation. This graceful lighting fixture will remarkably complement and fulfill a living space, being an excellent choice for contemporary or modern interior style in both residential and commercial interior design.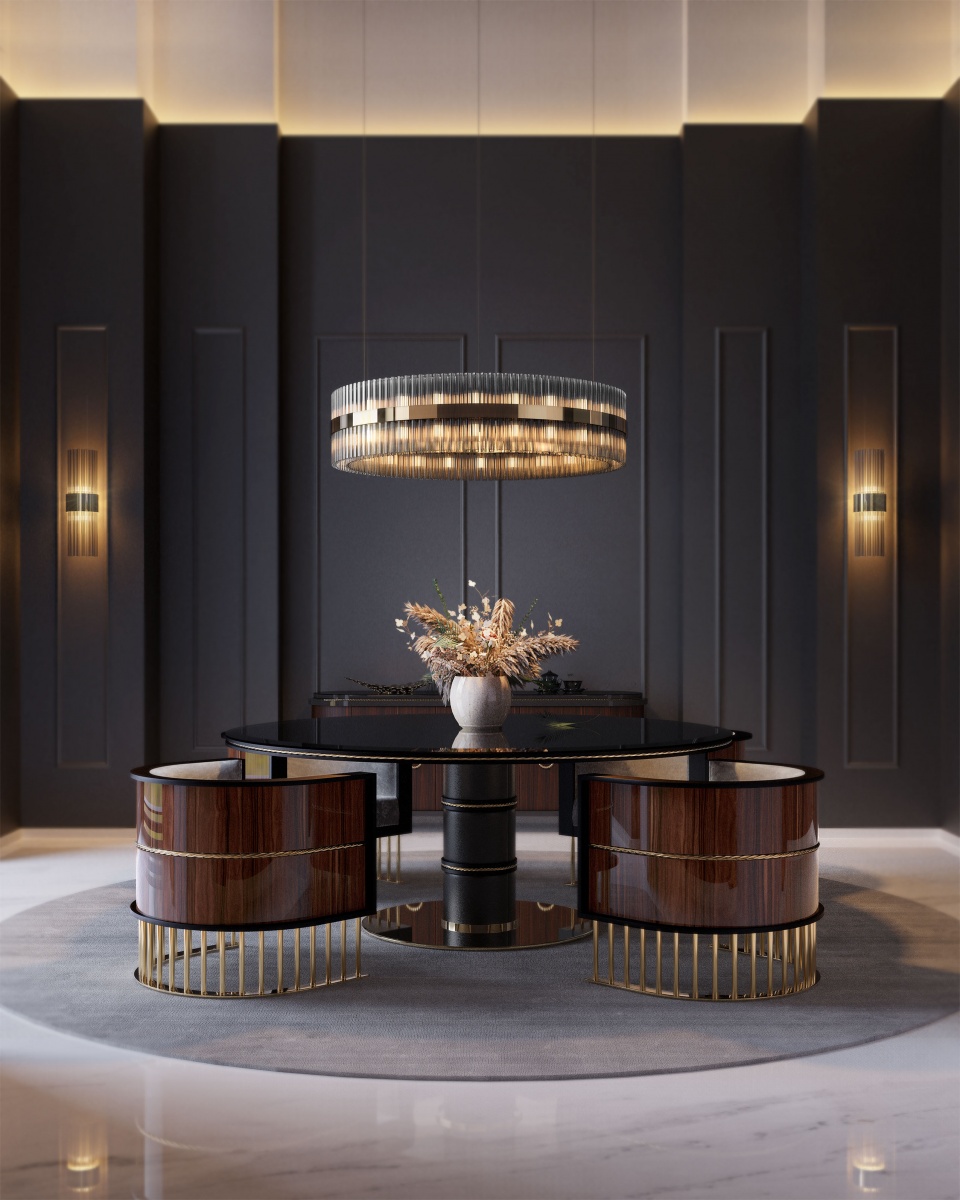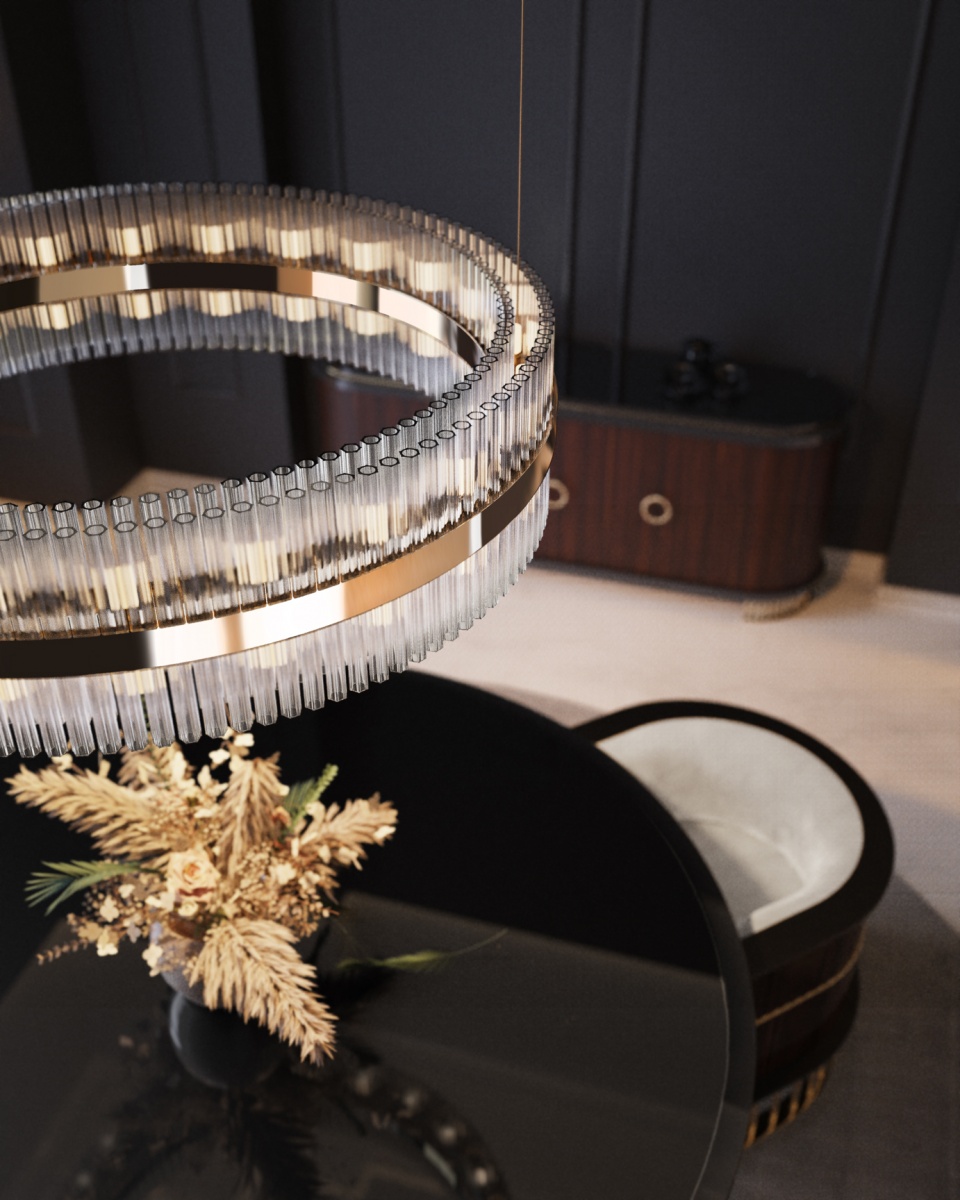 The following sophisticated ambiance features the Arcade floor lamp, where gold-plated brass masterfully combined with mesmerizing glass, provides an aerial atmosphere, full of bright and playful shooting amber rays of light. The Arcade Floor Lamp may be an intriguing lighting solution for the most demanding tastes to place particular emphasis on the decor.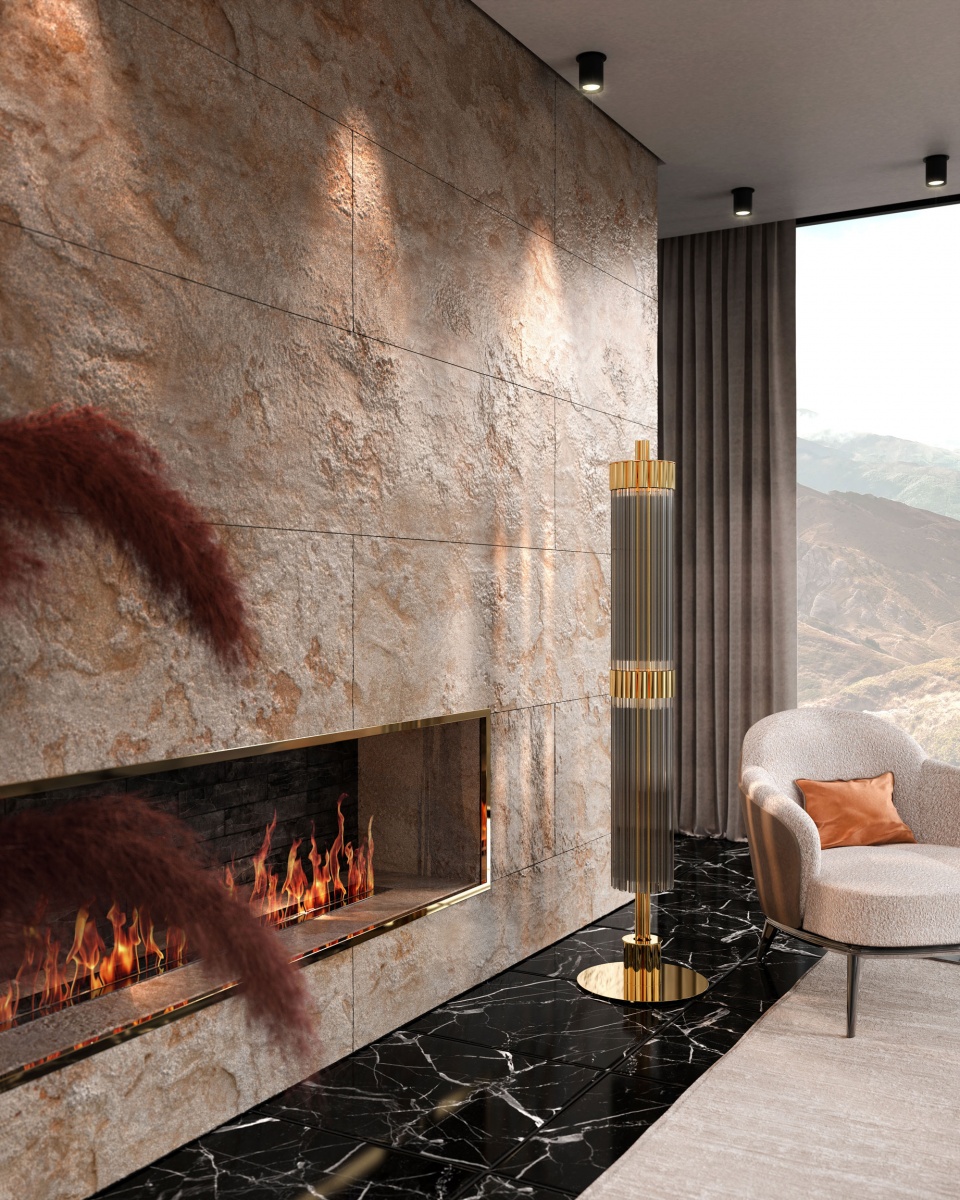 Gold-plated brass masterfully combined with mesmerizing glass provides an aerial atmosphere full of bright and playful shooting amber rays of light. This opulent lighting creation brings sensuality and a state of tender contemplative attitude along with openness. A soft light transmits classy elegance and purity to every space. It is a perfect match for different types of interiors: either classic or modern. The Arcade luxury chandelier may be an intriguing lighting solution for the most demanding tastes and decors.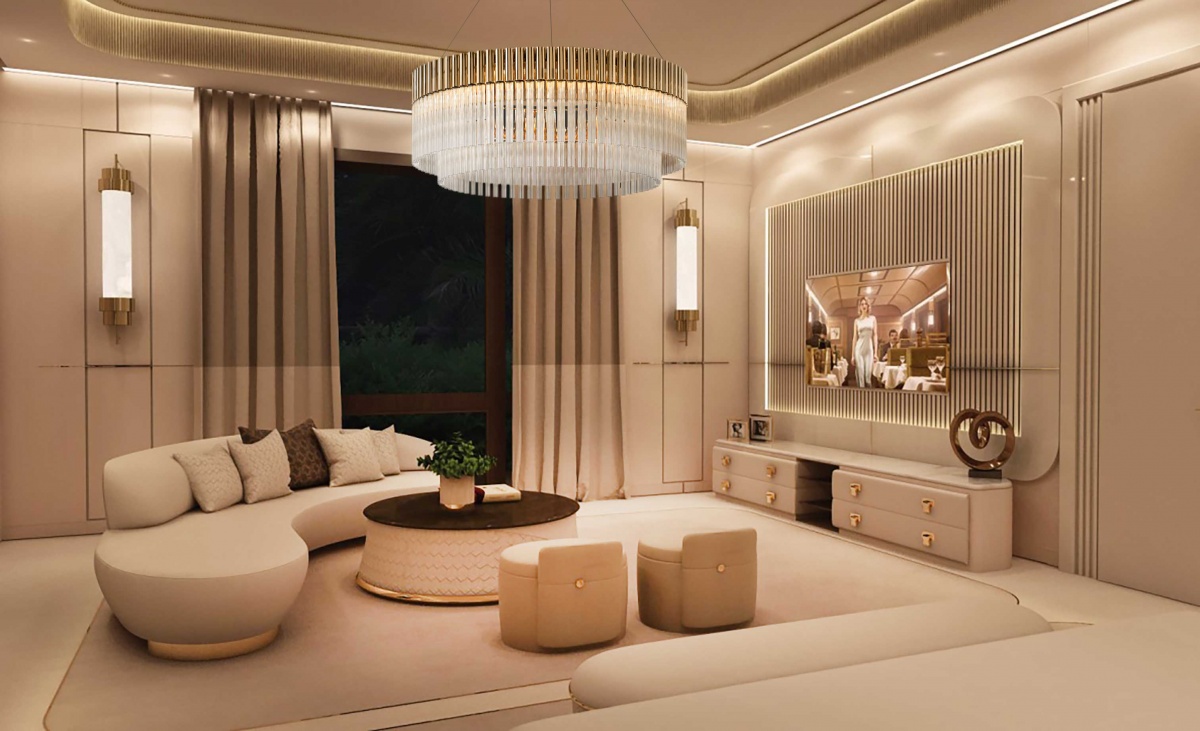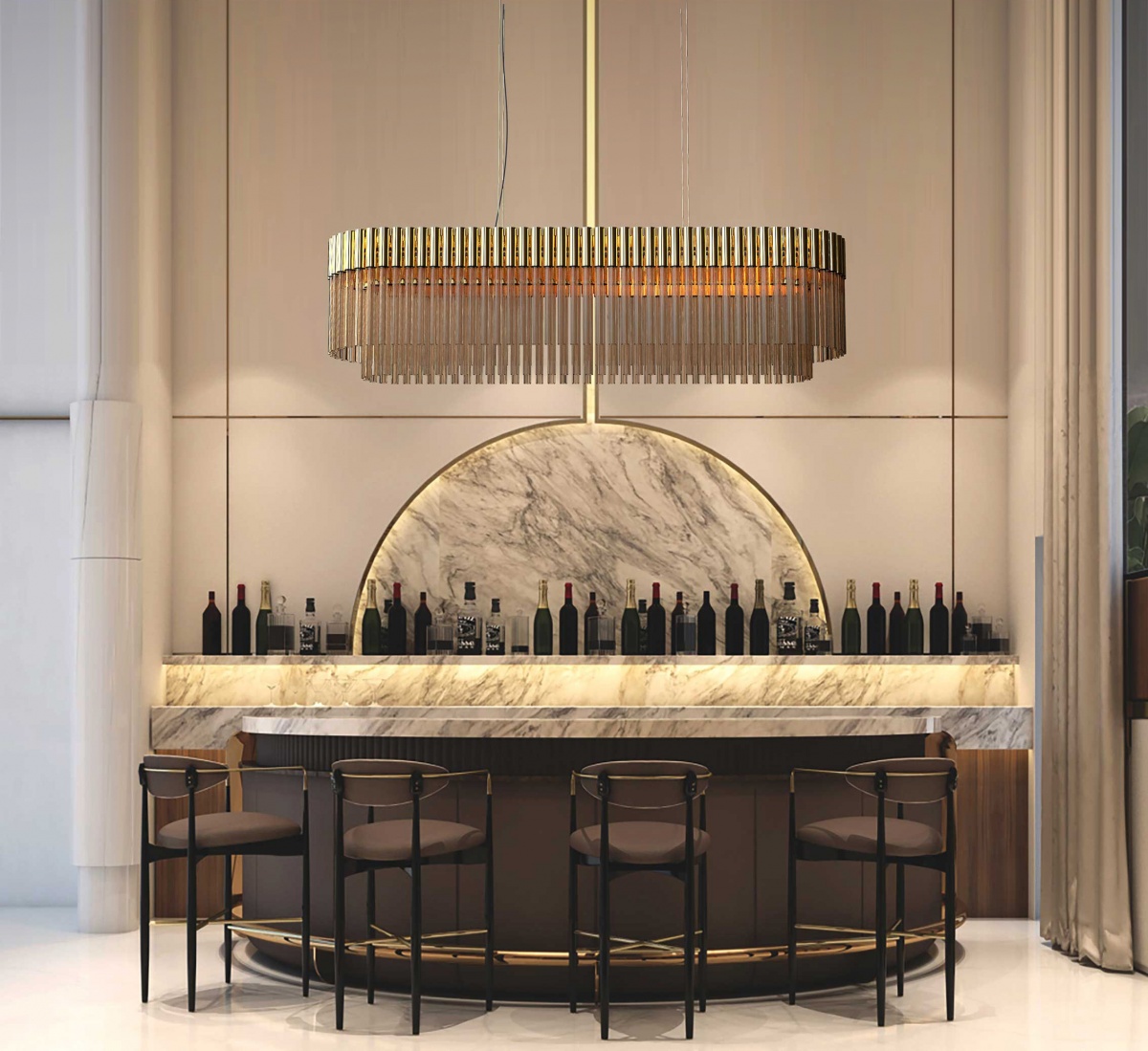 Create aesthetic scenarios with this luxurious chandelier in large dining room areas or long hotel lobbies. The Arcade Suspension snooker is the perfect choice for spacious and elegant interiors.
TREND 2: ART DECO VIBES
What comes first to your mind when one says "Art Deco"? It probably reminds you of "The Great Gatsby", fancy life, opulent parties along with amazing cocktails, stunning outfits, and jazz. The influence of Art Deco can be traced in everything: from architecture, furniture, and lighting design to fashion, especially jewelry. As you might know, it belongs to one of the most sophisticated and attractive styles of art of the 20th century. Today, Art Deco is considered to be a strong luxury statement and be regarded as a symbol of status and wealth, as well as the embodiment of exquisite taste and commitment to excellence. This interior design style is perfect for self-expression to show personality and impeccable taste. A fashionable elegance along with a so-called visionary luxury, which is complete, stylish, and classy. Must-haves of this style are expensive and rich materials. Gold, brass, crystals, rare woods, marbles, and lacquer finishes are the core elements.
Get inspired by this exquisite setting off Mastery snooker Suspension. Mastery's powerful yet smooth lines create an organic movement of lights and shadows that suggest elegance and glamour. This sumptuous suspension handcrafted in gold-plated brass will stand out in the most luxurious and exclusive interior décors.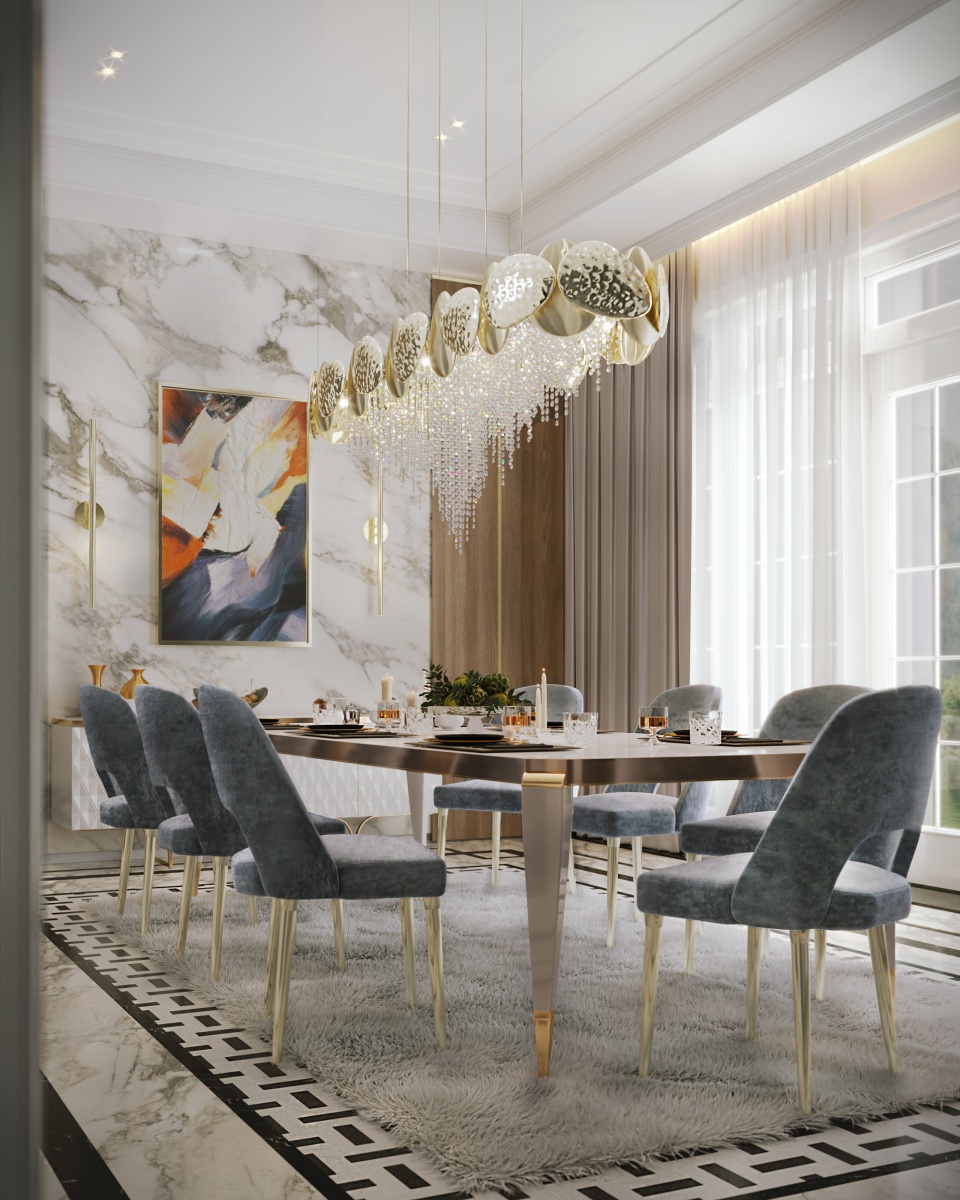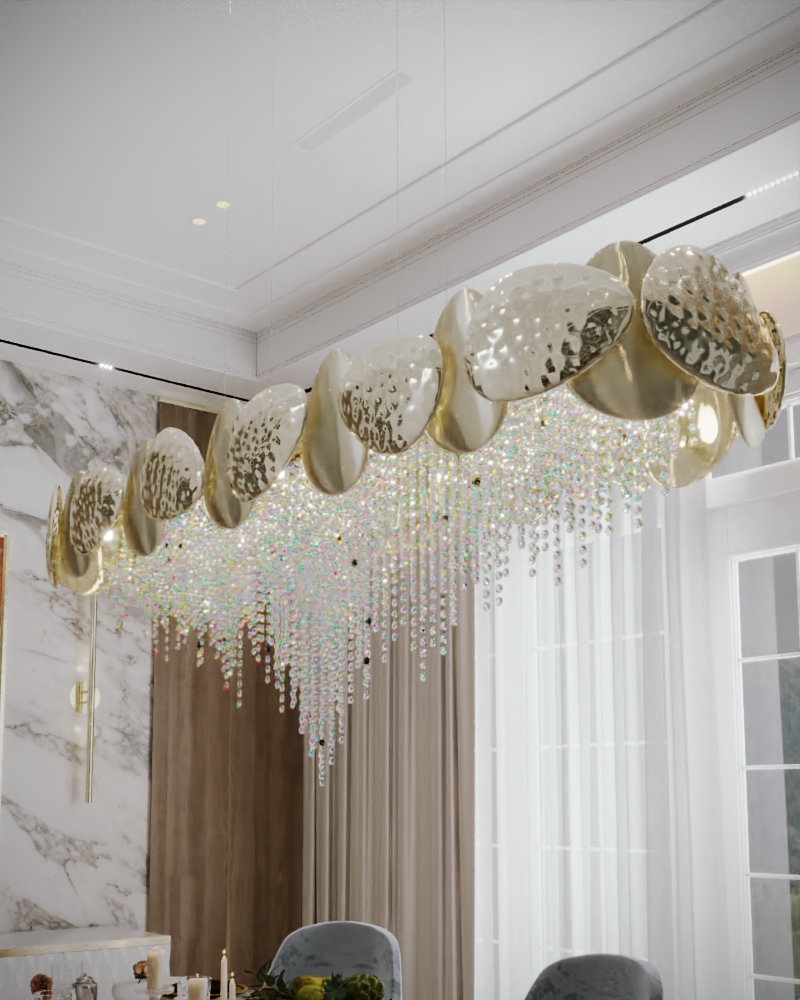 This refined ambiance features Spacium Suspension, Halma Wall Light, and Blossom Stool.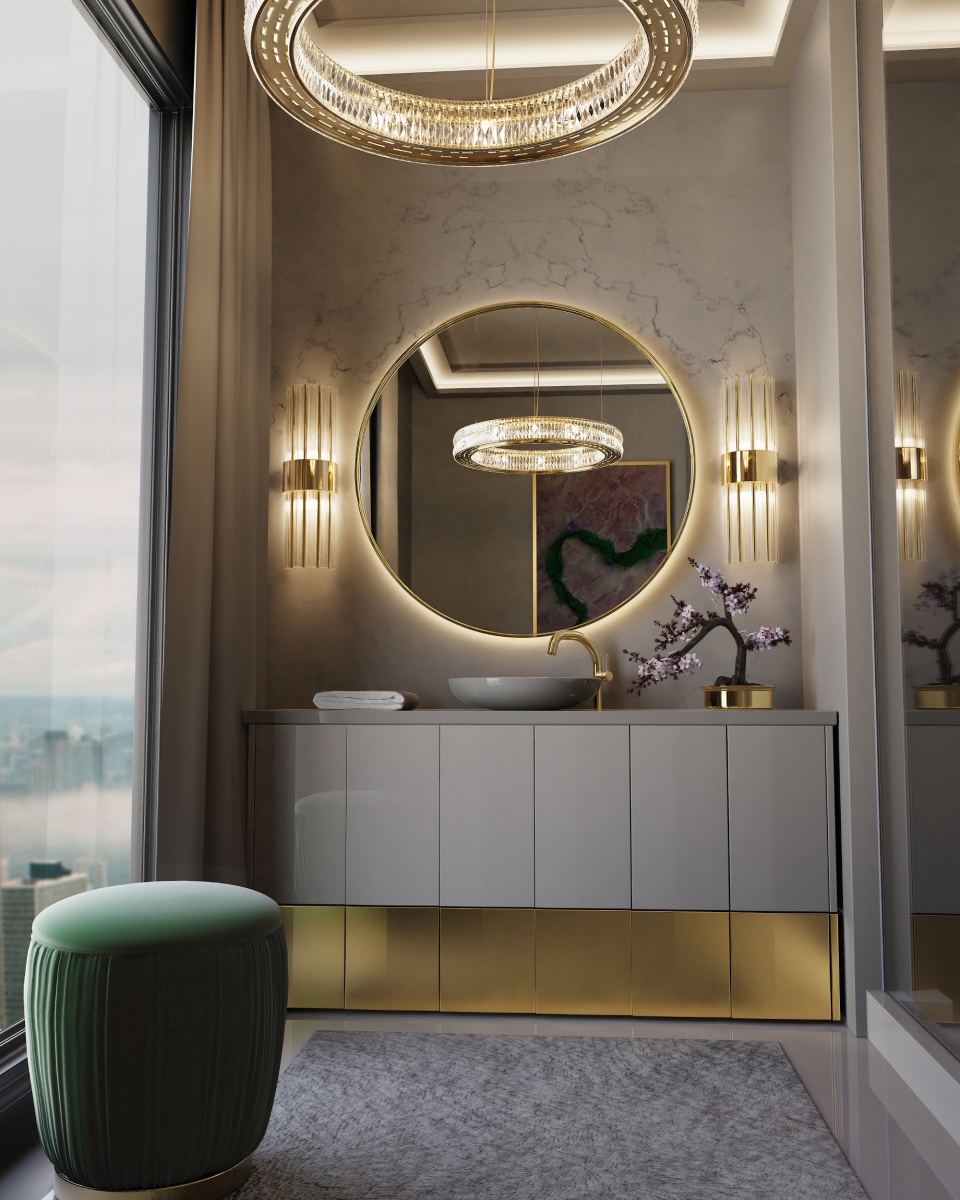 The Royal Collection incorporates the luxury and opulence of the Royal Era, demonstrated in the care for each detail and the use of traditional handcrafting technics. Composed of brass and glass, the different levels of this handmade chandelier are a remarkable display of how a modern touch can elevate a traditional design. These distinctive features make the Royal Suspension a perfect solution for wide spaces, able to swipe every attention in the room.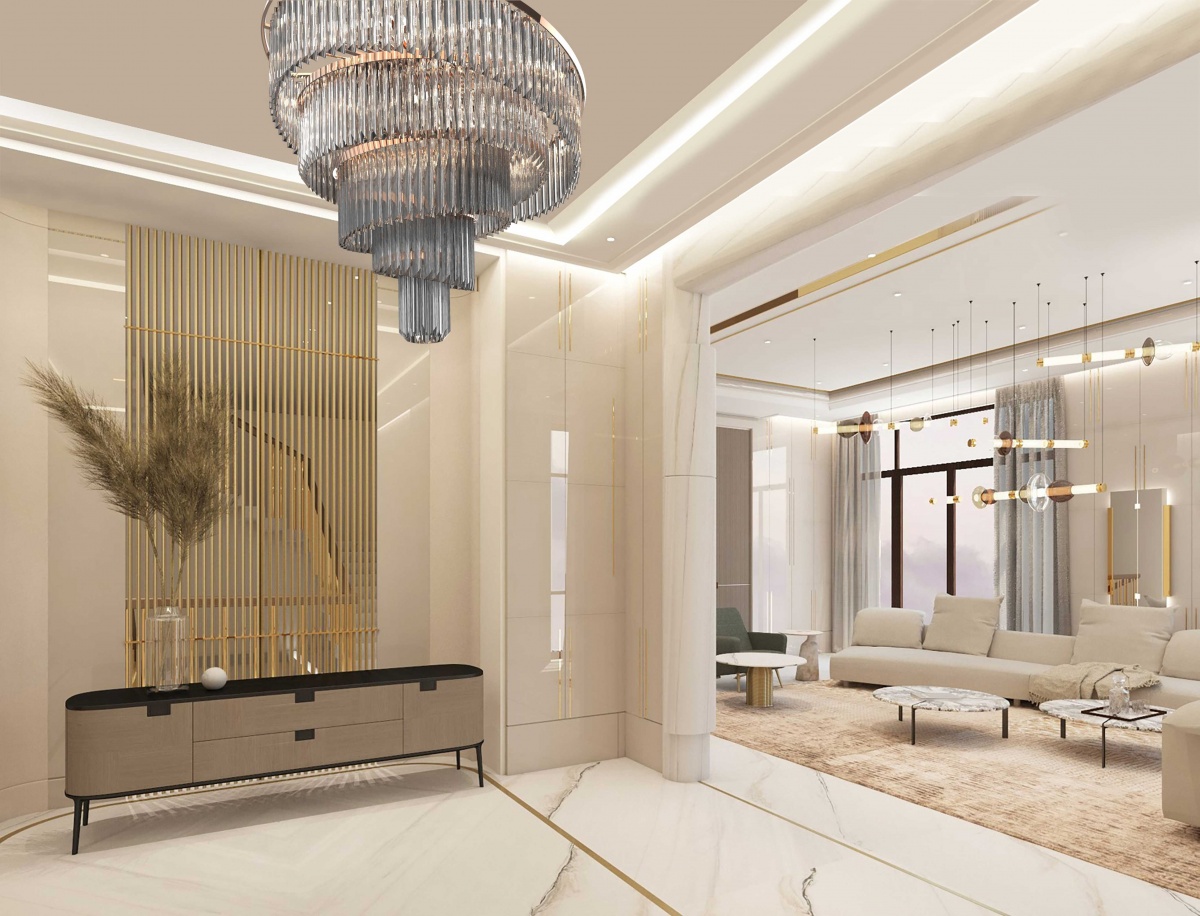 TREND 3: NATURE-INSPIRED LIGHTING AND FURNITURE DESIGNS
The nature-inspired elegant chandelier is unparalleled in the refinement and grace it represents. The gold-plated brass coupled with clear crystal glass - applied by hand - brings a delicate charisma that resembles nature in full bloom. A broad-leaved masterpiece of modern lighting design alongside falling raindrops and butterflies takes you to remote spaces and the open sky. A dreamy lighting fixture creates an exceptional ambiance to the classy interiors. The Rainforest Collection arose from the timeless lighting celebration of nature silhouettes, their elements, and their movements. Immerse yourself into the magnificent atmosphere of the sparkling rainforest, where the art of brass craftsmanship becomes luxury lighting design. The ultimate fusion between the artistic design, authenticity of traditional Portuguese metal-work techniques, and creative craftsmanship.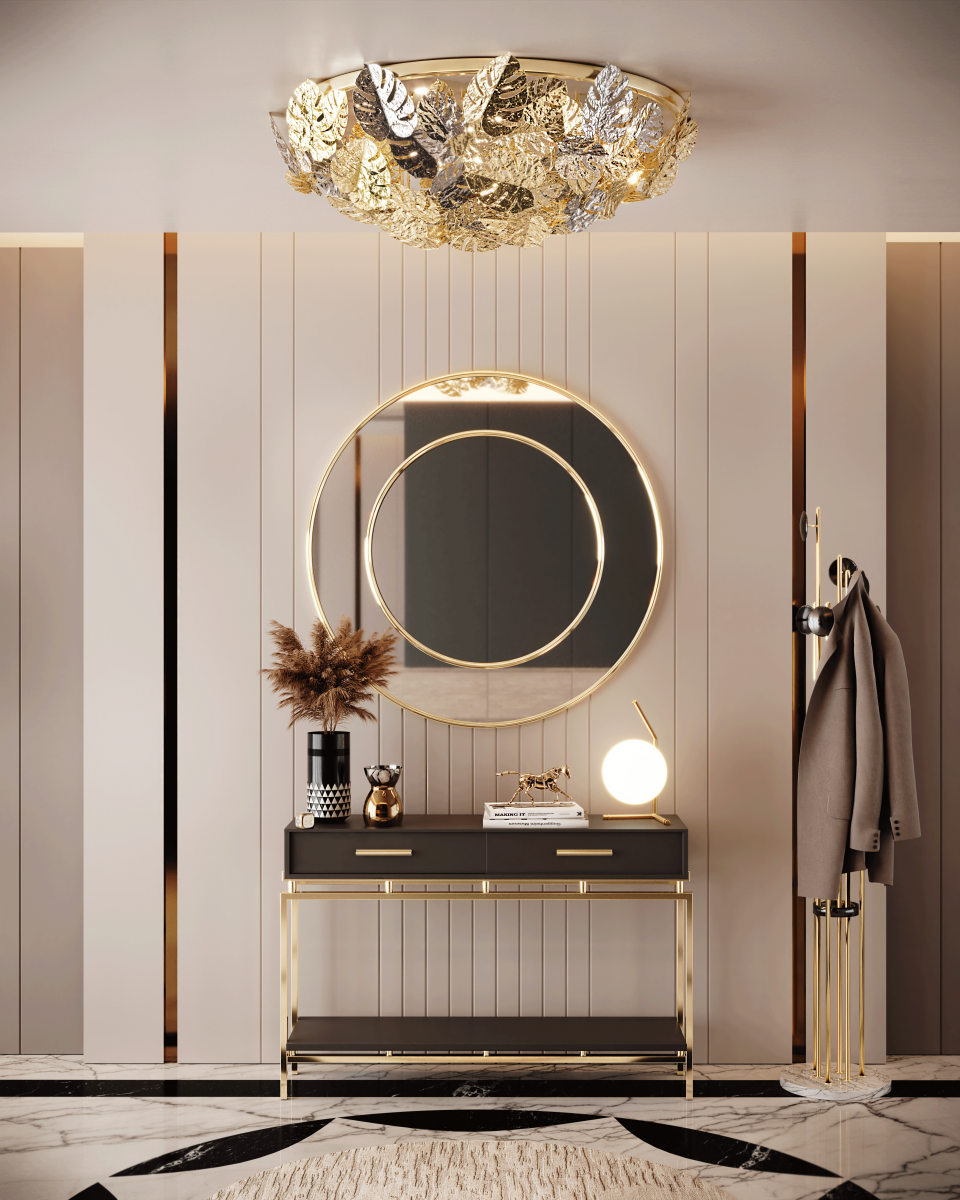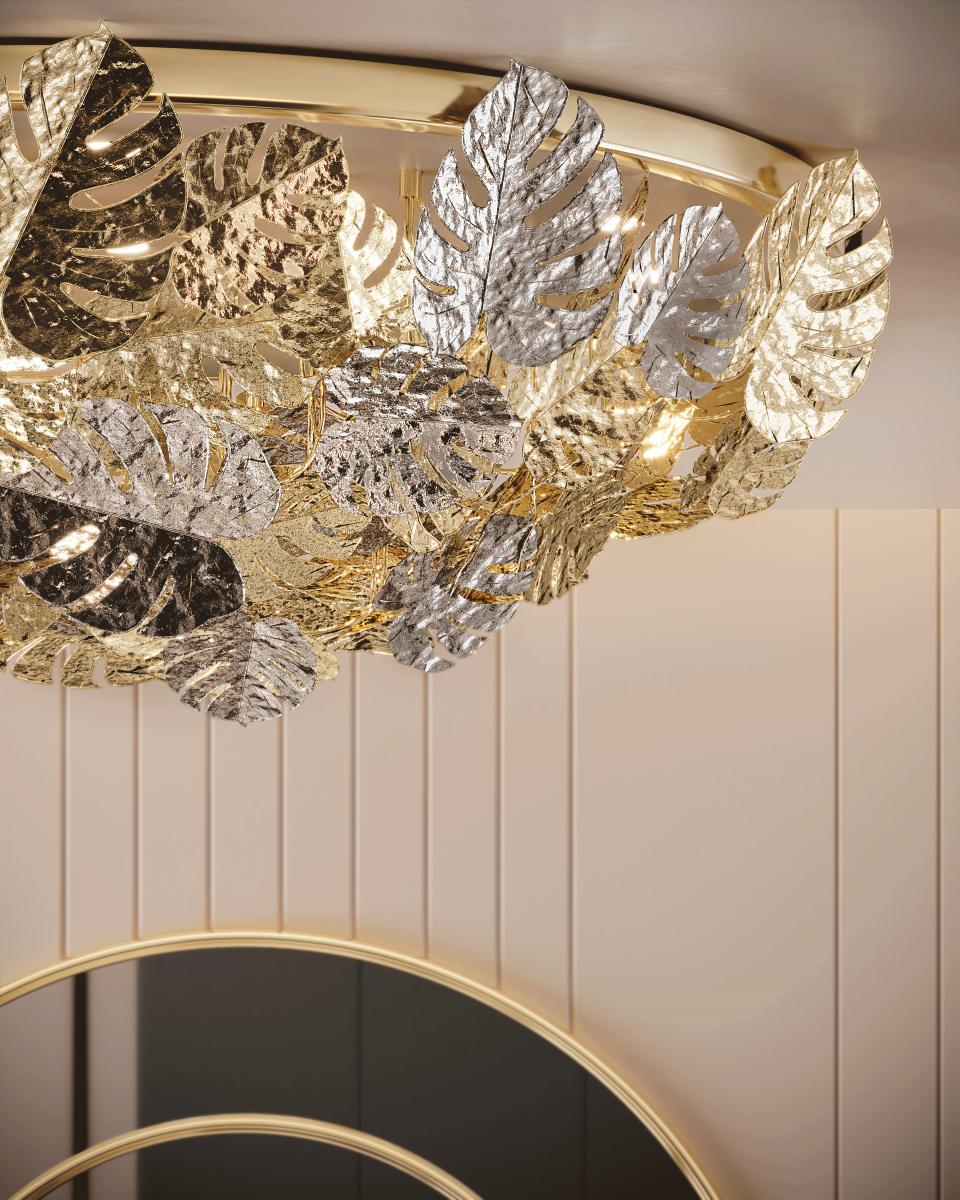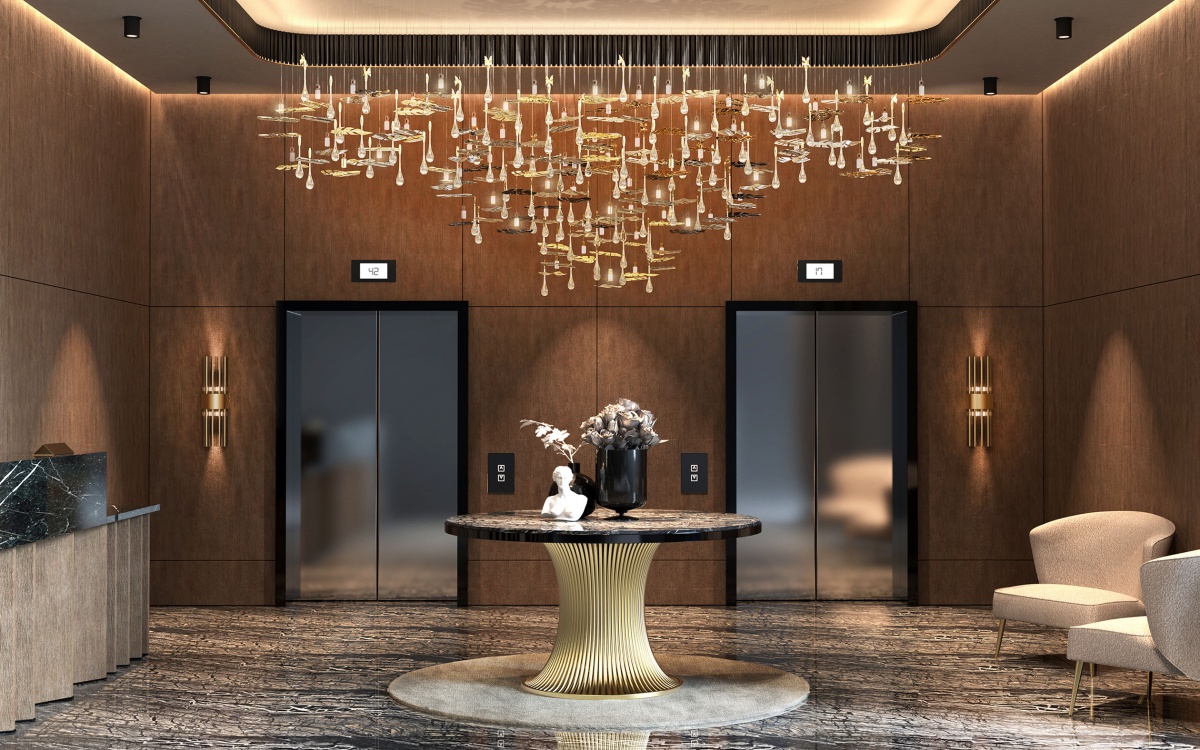 This mesmerizing design brings you into the daydreaming state of mind, revealing the story about visionary luxury and fancy fantasy implemented from the classy sketch to the sophisticated designs. Impressive new pieces are the marriage of innovations, design creativity, and brass handcrafting perfection.
Sparked by contemplating the sea landscape, wave ripples, and the breathtaking Côte d'Azur atmosphere, the graceful and glowing Riviera chandelier was crafted. The aesthetic design inspiration came from the French Riviera – the sun-soaked coastline in the south of France surrounded by the Mediterranean Sea. Known for its beach resorts, panoramic views, and intense blue waters – one of the Earth's most beautiful paradises. The Riviera gold suspension takes you on a daydream journey of visualizing an amazing French Riviera resort – just the right amount of light to make the ambiance feel exceptional and embracing. Each brass plate is a handmade artwork that was shaped and hammered differently to resemble waves and ripples, in a way to incorporate a modern design touch at its core, balancing refined hammered-gloss finishes. An organic fluid shape casts light on the bottom of the tube but also on the sides, dispersing a smooth light effect through its edges to enhance the gold finish of the tubes.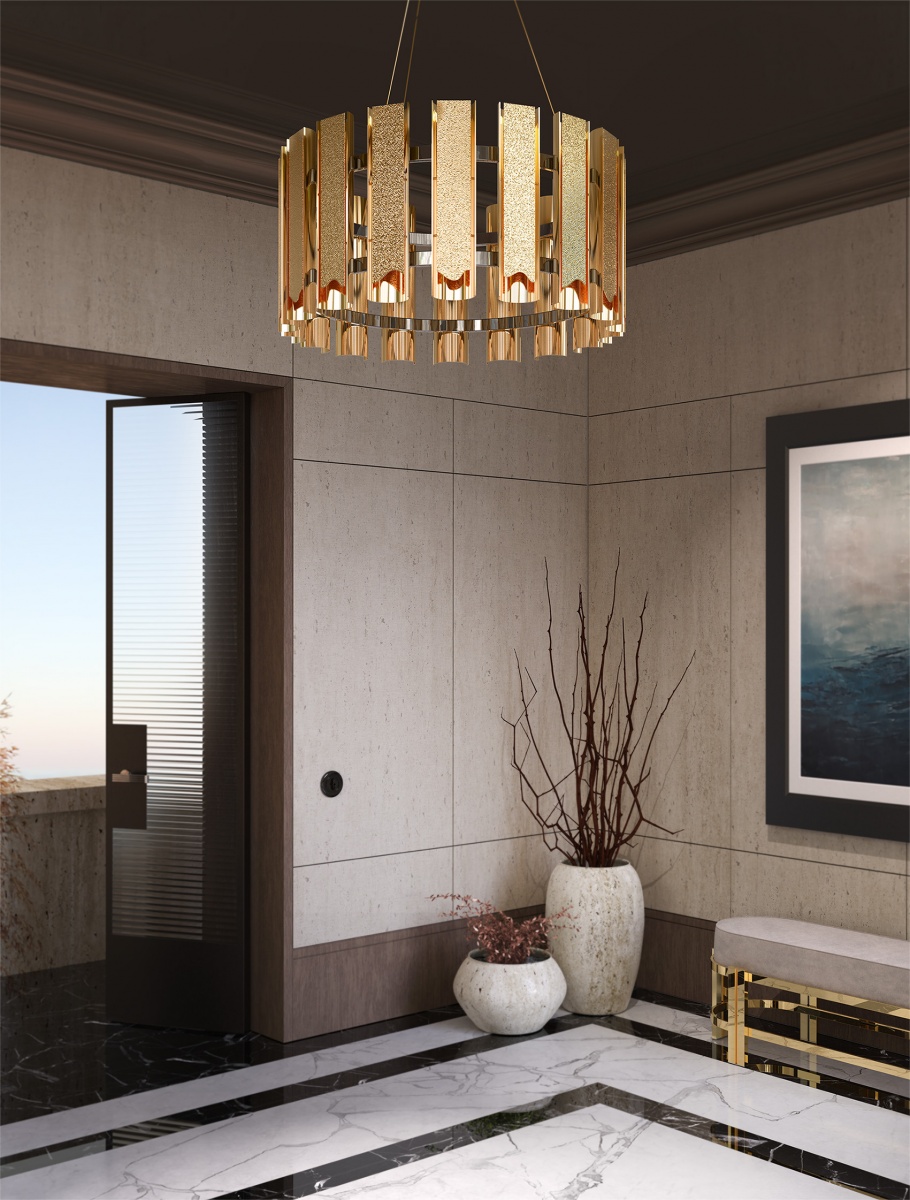 On the back side of the brass tubes, the Riviera chandelier is designed with openings for a one-of-a-kind light spread. The light-diffusing effect of this eye-catching design will make it the central piece for all exquisite interiors and help achieve the desired timeless chic. This luxury handcrafted suspension is the perfect choice for art deco, mid-century modern, or modern classic interior style, being an excellent lighting decorative accessory for spacious living rooms, dining rooms, and hotel entrances.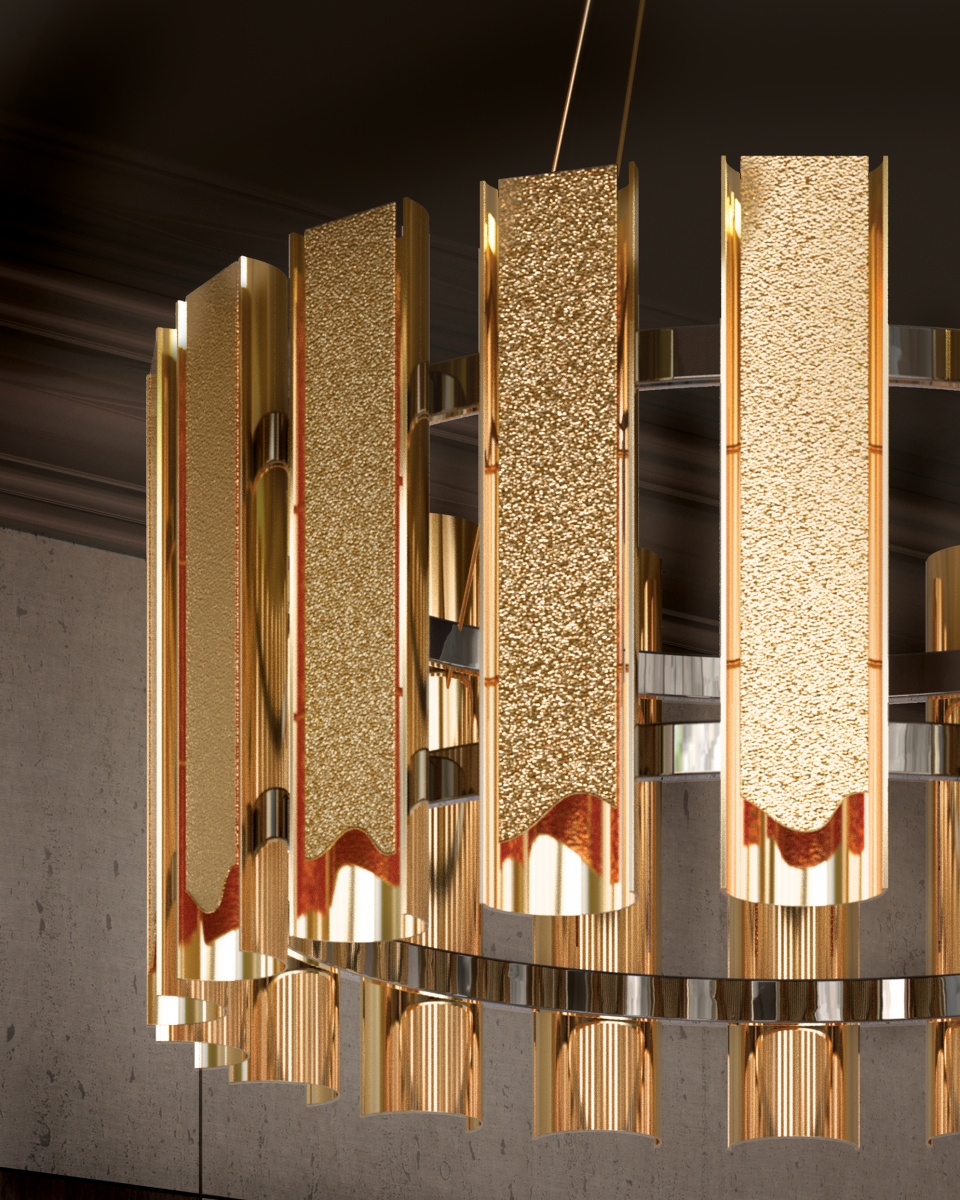 The Safari collection arose from exploring new worlds of inspiration for creative and unique designs. Ignited by the concept of journey, Safari Collection embraces the aesthetic spirit of the savage animal world, unexplored and enigmatic, enticing atmosphere of serenity and midday summer heat of Savannah. Bronze and earthy tones bring the wild into high-class décor. A signature lighting design delivers a fresh approach to luxury and results in a refined retreat for every demanding interior. This majestic chandelier was designed to be contemplated and harmoniously allied to an elegant composition with a chair alongside a wall light from the same Collection. Safari snooker suspension is the newest addition to the Castro iconic designs.
The key highlight of this lighting creation is rooted in its exclusive giraffe print handcrafted with the ultimate care to detail by professional artisans. Each brass plate is a true design masterpiece that carries a bronze glass to soften the mesmerizing light effect. This lavish snooker version of this golden chandelier can be modelled in any sizes and visually complement a living space with its natural allure, creating an unusual ambience. Matching various styles of residential and commercial projects, this sophisticated design is perfect to shape modern classic, mid-century modern, or art deco interiors.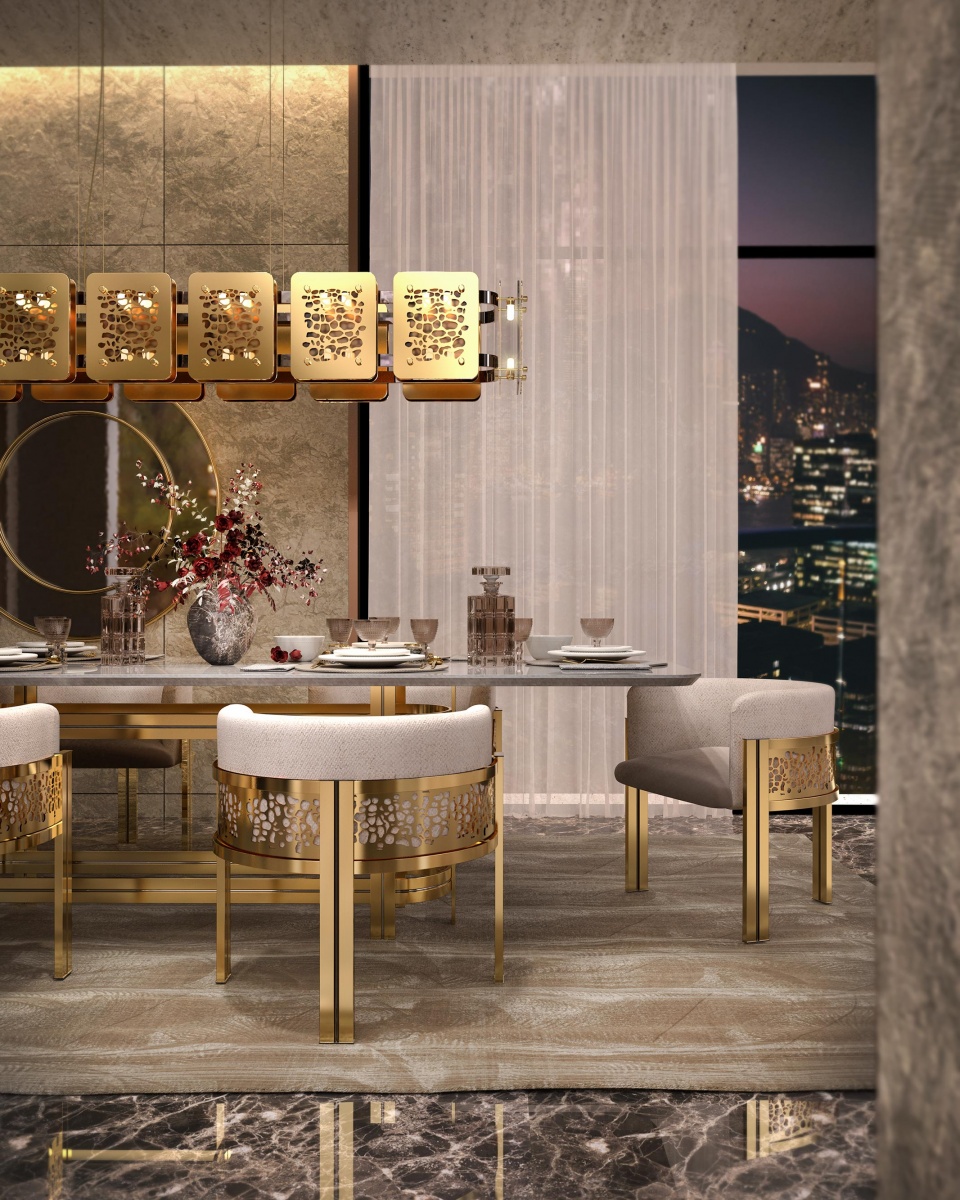 Nature-inspired furniture element - Safari chair - composed of a top-quality combo of materials such as brass that frames the mesmerizing beige upholstery, Safari's splendid design ensures divine comfort due to its curved backrest. This lavish chair can visually complement any living space with its natural allure, creating an unusual ambiance due to the key highlight of this luxury furniture creation rooted in its exclusive brass giraffe print on the back handcrafted with the ultimate care to details by professional artisans.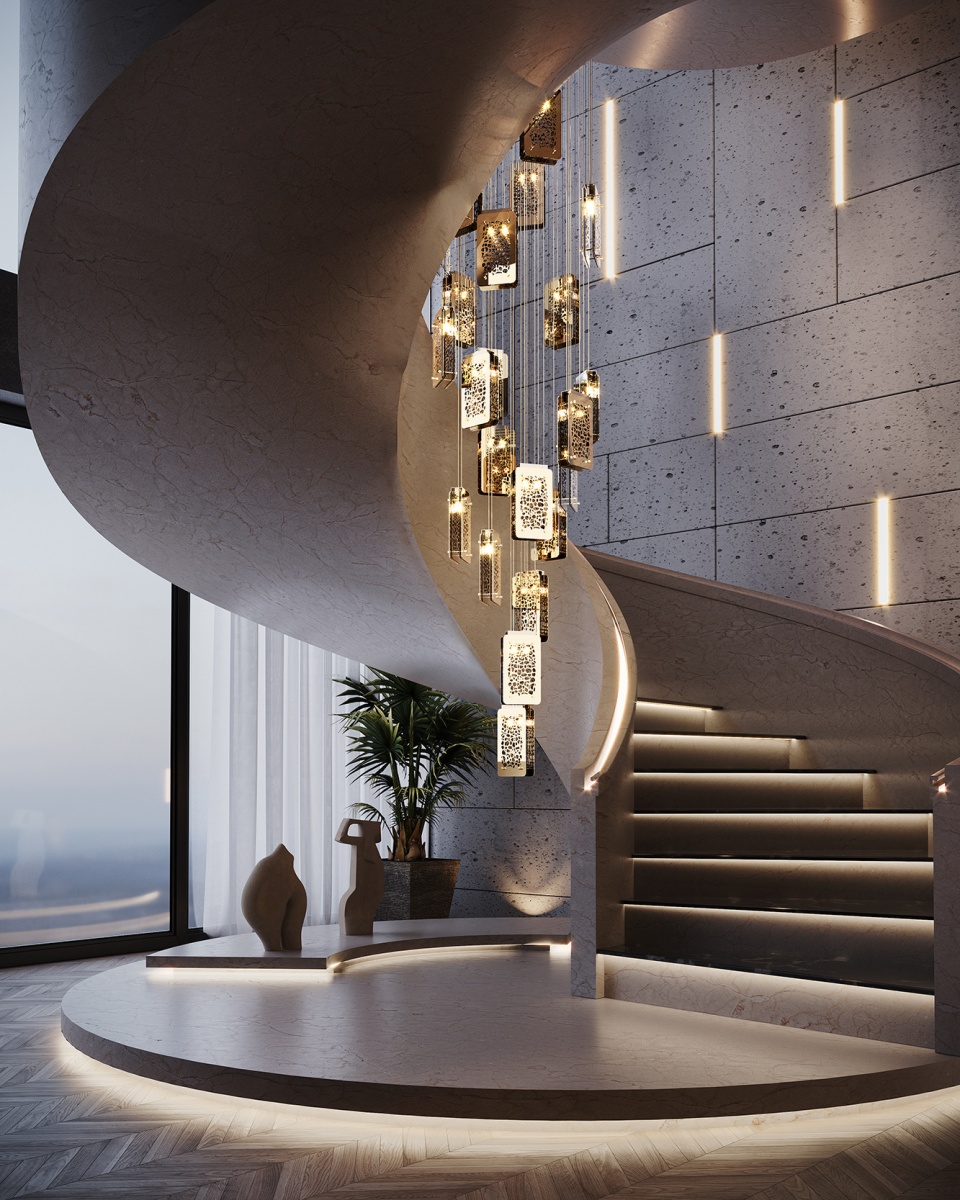 The grand chandelier Lotus manifests the concept of splendour and picturesque beauty that evoke a different look composed due to its complex blend of compounds of different levels. The following statement lighting fixture is ideal for interior design projects that aim to provide a strong impression. The signature mix of high-end materials catches the attention of the most tired interior aesthetes and invites the guests to contemplate the lighting creation while crossing this luxury chandelier.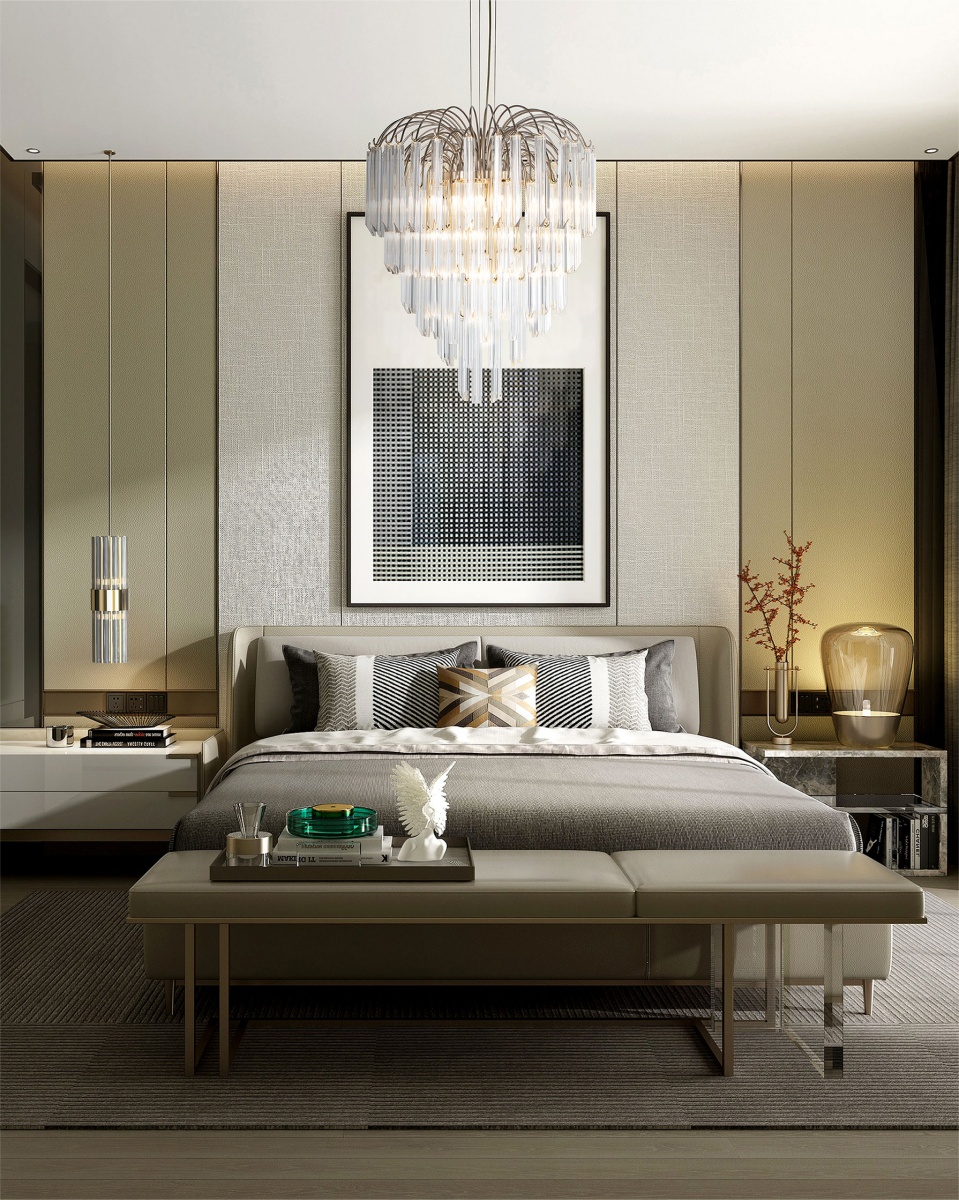 Anyone who has ever observed a lotus flower emerging can't fail to see its beauty and delicacy, always looking clean and pure against the background it is born in. Lotus handmade suspension aims to represent simplicity and splendor as its design and form are almost identical to the real lotus flower shape, incorporating its luxurious sensation. The use of noble materials and valuable traditional manufacturing techniques makes this chandelier unique, as the 24k gold adorns with delicate glass increase the visual complexity. The glass elements remind of calm falling petals from the flower that reflect its simplicity, as well as shades of elegance and beauty.
TREND 4: ART LIGHT
Art light is the new vogue, now mainly in gold, coming into style. Artful lighting design represents the artistic side of life. Functional and perceptive Art Light has a captivating linear design. It fits in any ambiance, creating an explosive movement of light, as it reflects the gold accent of the piece. Capture the attention of the guests with the handmade art light, designed to fill interior projects with graceful pieces. This art illuminating fixture can be used to decorate luxurious living spaces together with luxury Art Deco furniture in order to provide a golden aura and shape an enigmatic ambiance. Hopper wall light was inspired by the American painter Edward Hopper. Made of gold-plated brass, this modern top light is an embodiment of finesse, complexity, and attention to detail.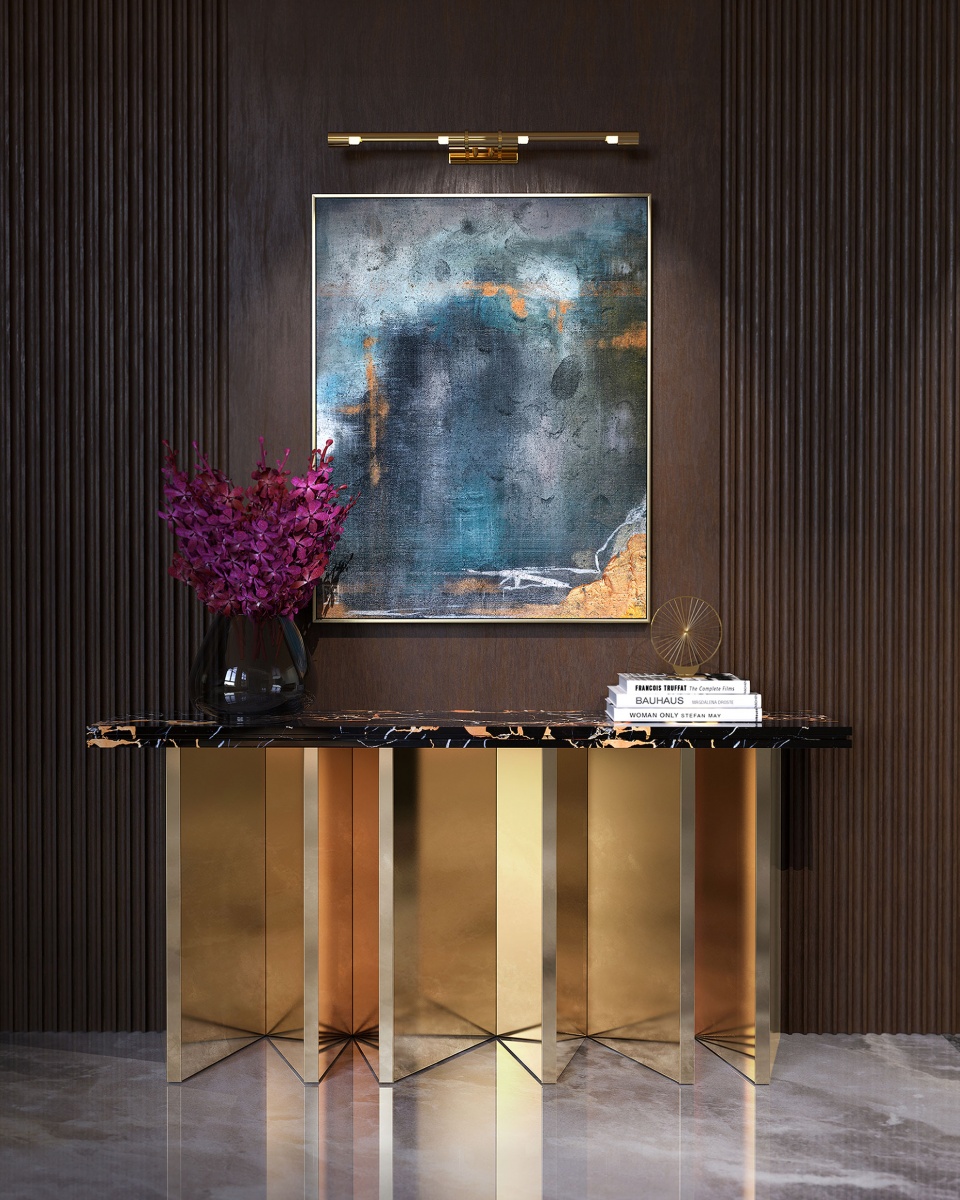 Euphoria Wall Light was designed with brass rings combining metallic finishes, so they can be customized in a wide range of well-aligned and contrasting brass finishes, uniquely blending them to create a unique design.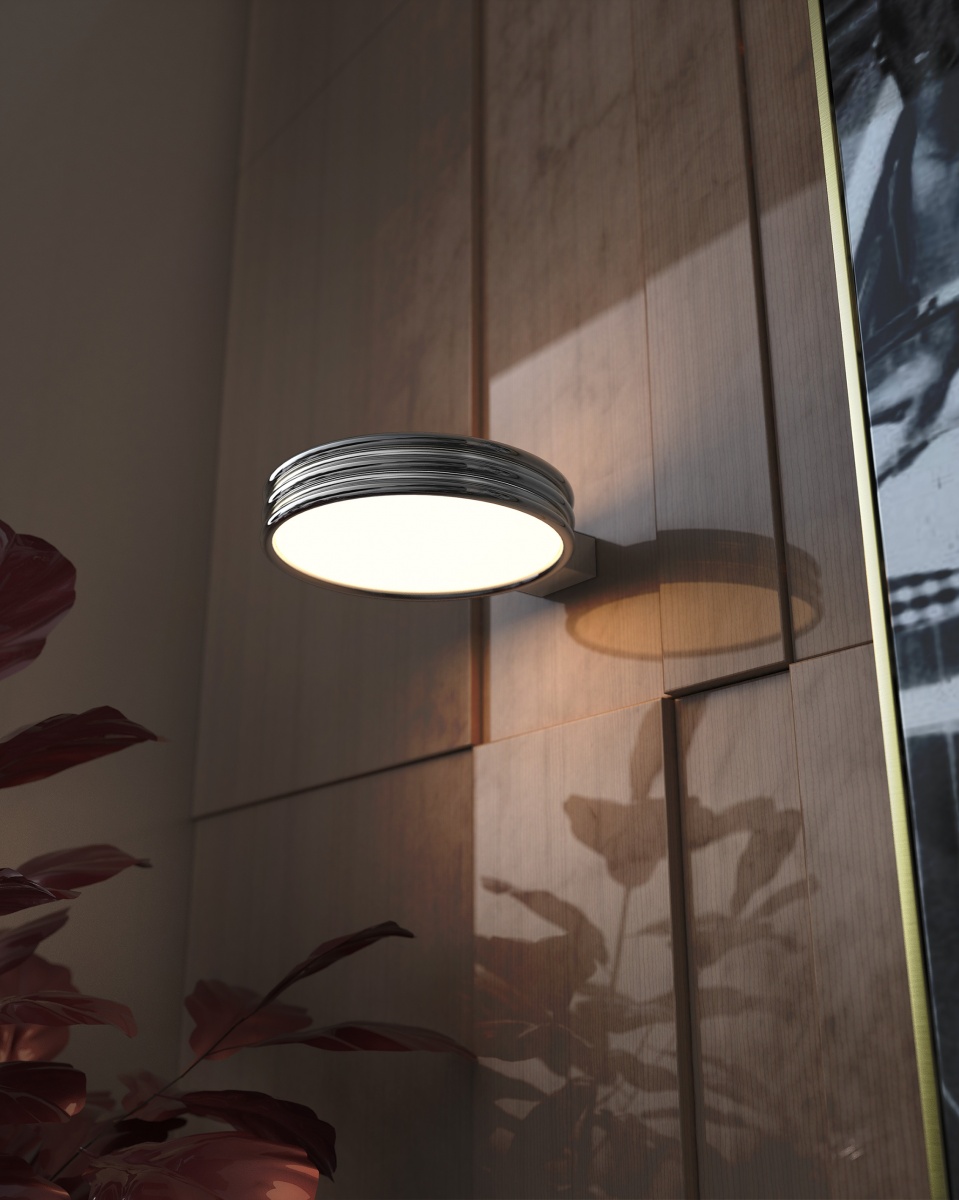 TREND 5: BRASS COUPLED WITH ELEGANT MARBLE
Brass and marble are the best combo and a strong statement in timeless lighting design. The exceptionally elegant and creative mix of materials makes it easy to uplift the interior design with a new aesthetic and sophisticated allure. Having a duality idea in its design, this contemporary table lamp reflects its top and base like a mirrored image, granting a special magnetism to this piece. Its structure is made of glitzy brass, paired with a cylindrical shape marble. The handmade table lamp - Chantel - makes it easy to uplift the interior design with a new aesthetic in decorative lighting. The charismatic and geometrical silhouette of this handmade table lamp will complement a contemporary or transitional interior design style. It is a modern statement that will be a great addition to any room.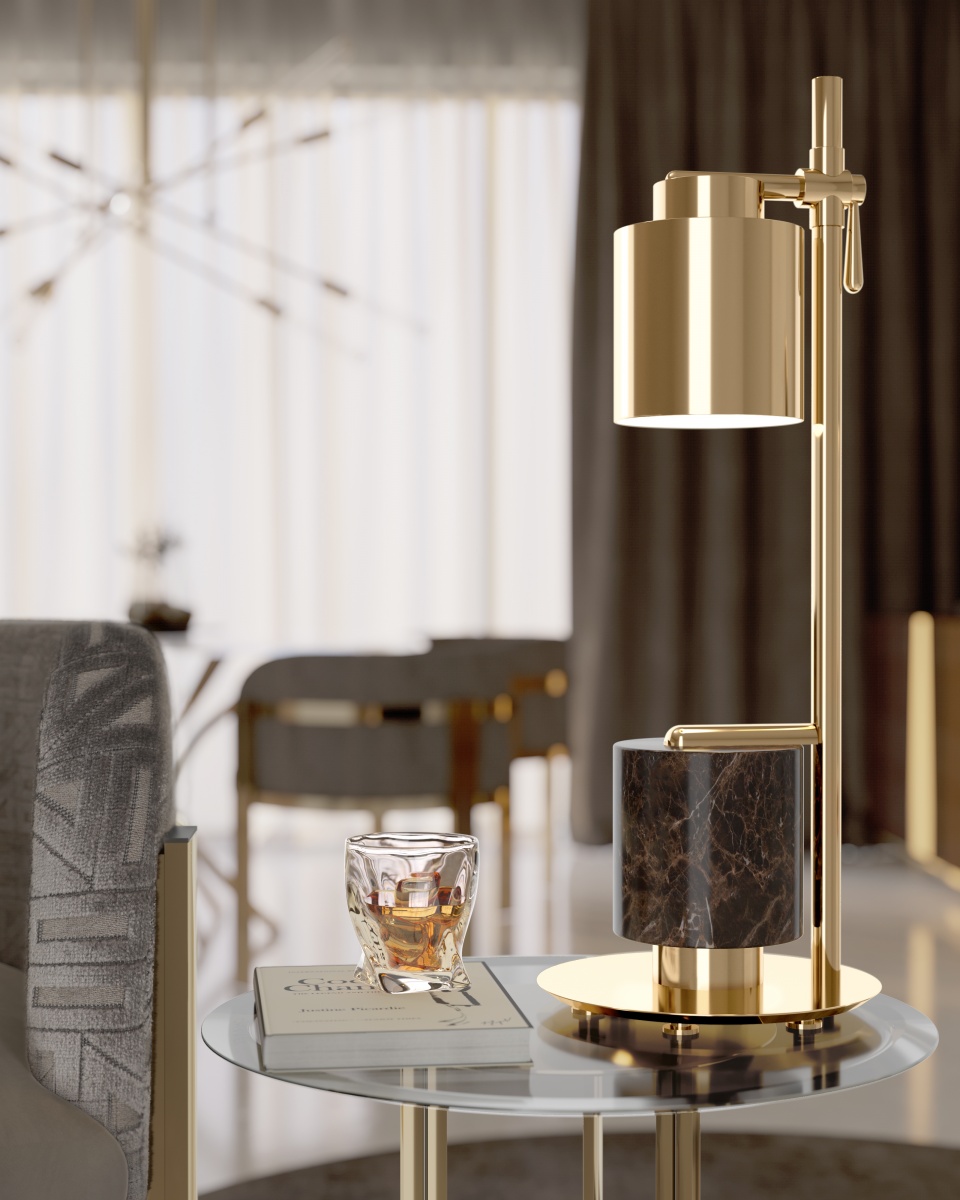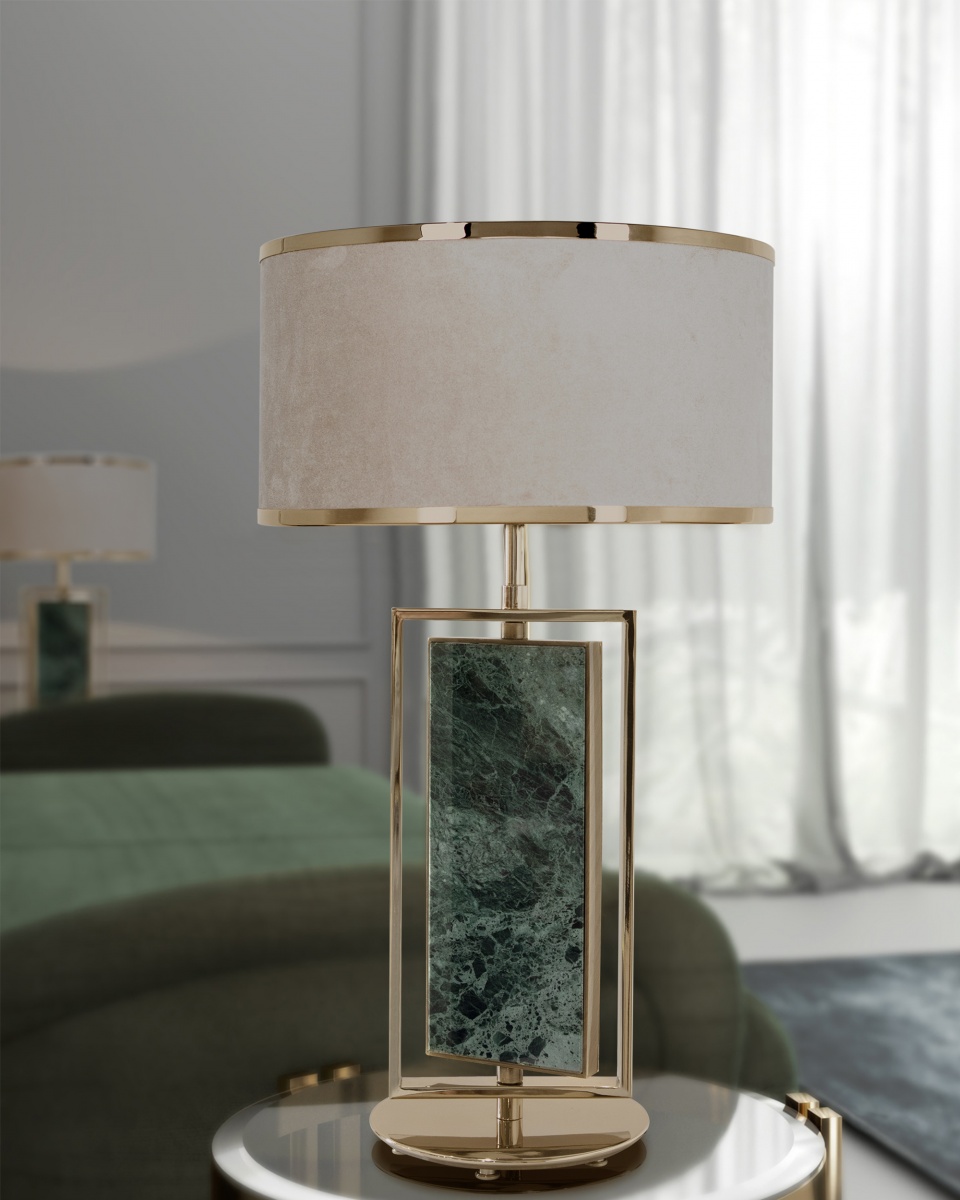 Marble and brass are an excellent combo for elegant furniture as well. Just have a look at this stylish console - a true modern furniture masterpiece. The Euphoria Console combines an elegant set of brass rings with different metal finish options on top and the bottom of the console. This contrast enhances the magnificence of the marble, conferring to the living spaces a unique touch of luxury. Gold-plated brass tubes with different diameters married with premium marble result in a subtle, delicate silhouette of the refined modern console. The elegant Euphoria console features the classic shape of a credenza – the timeless Castro design touch. Euphoria Console brass rings and legs use the same metallic finishes, and thus can be bespoken in a wide range of well-aligned yet contrasting brass finishes, combining them in a unique manner to create a signature design.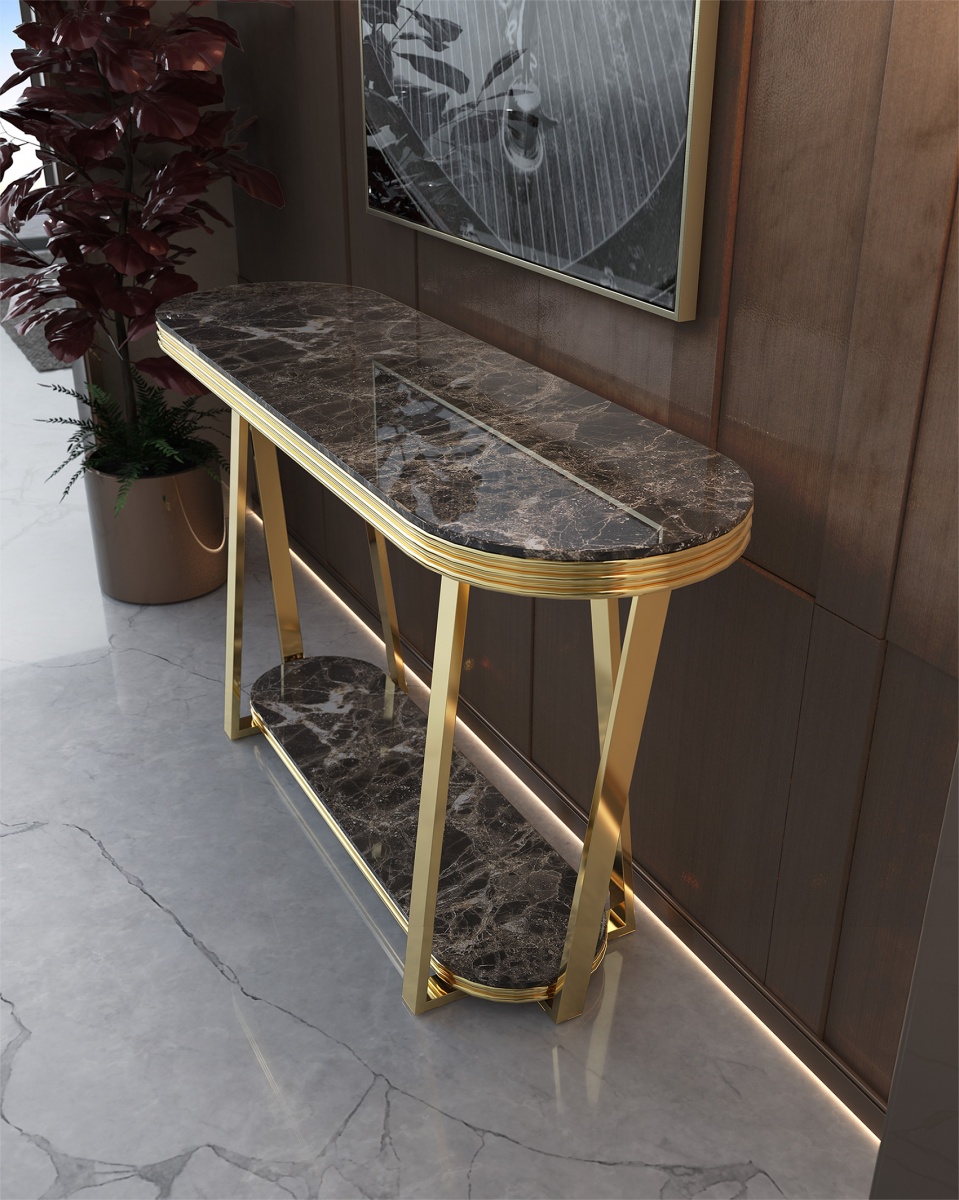 The choice and contrasts of materials make this Jade modern side table an authentic statement piece. The straight lines and vivid brass contrast with the dark marble, becoming one harmonious and timeless piece that will be the seamless touch of luxury in any residential or commercial interior decor.
Jades are known around the world for their beauty and toughness. They're ornamental minerals that encourage creativity and enhance knowledge, which make them the perfect inspiration for the creative process of designing lavish furniture.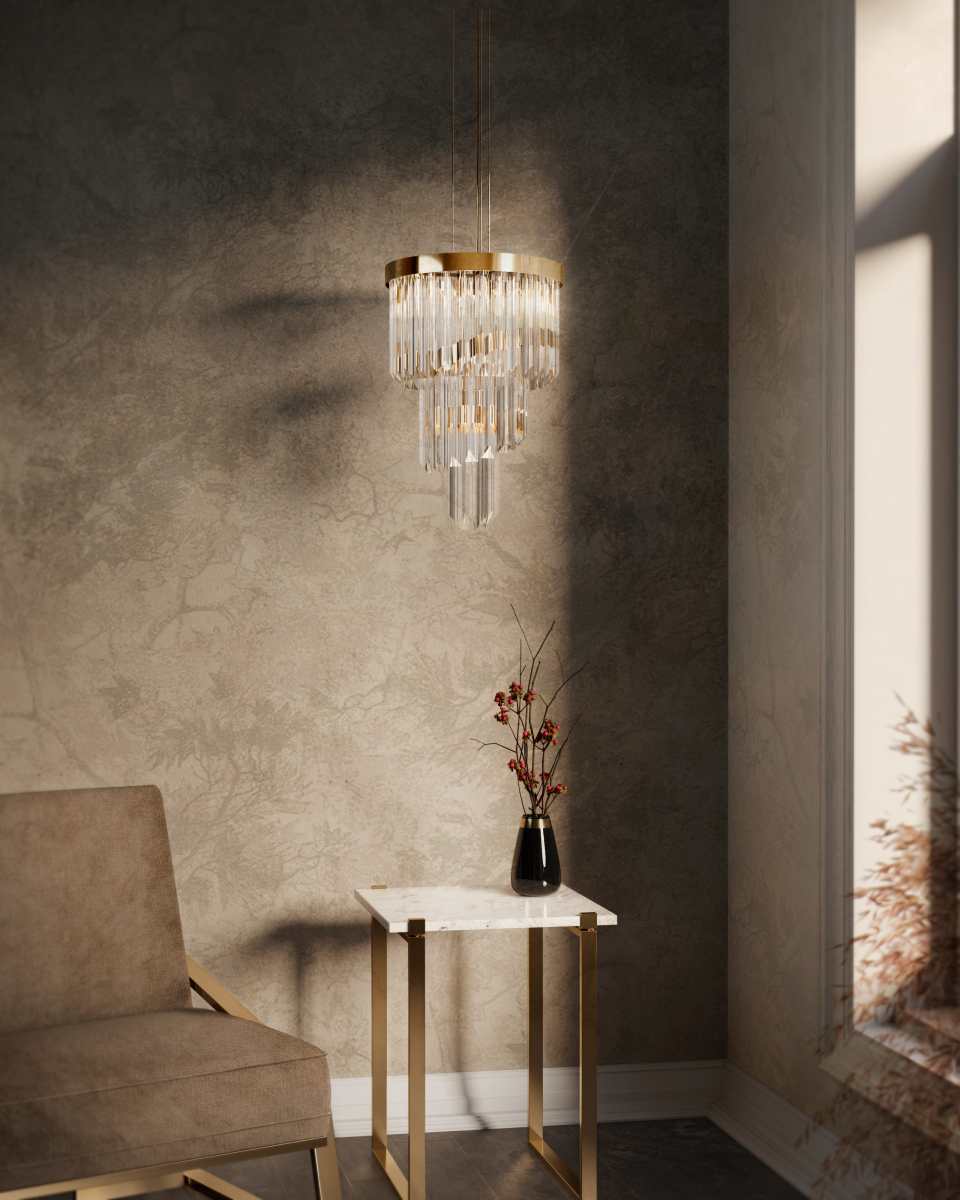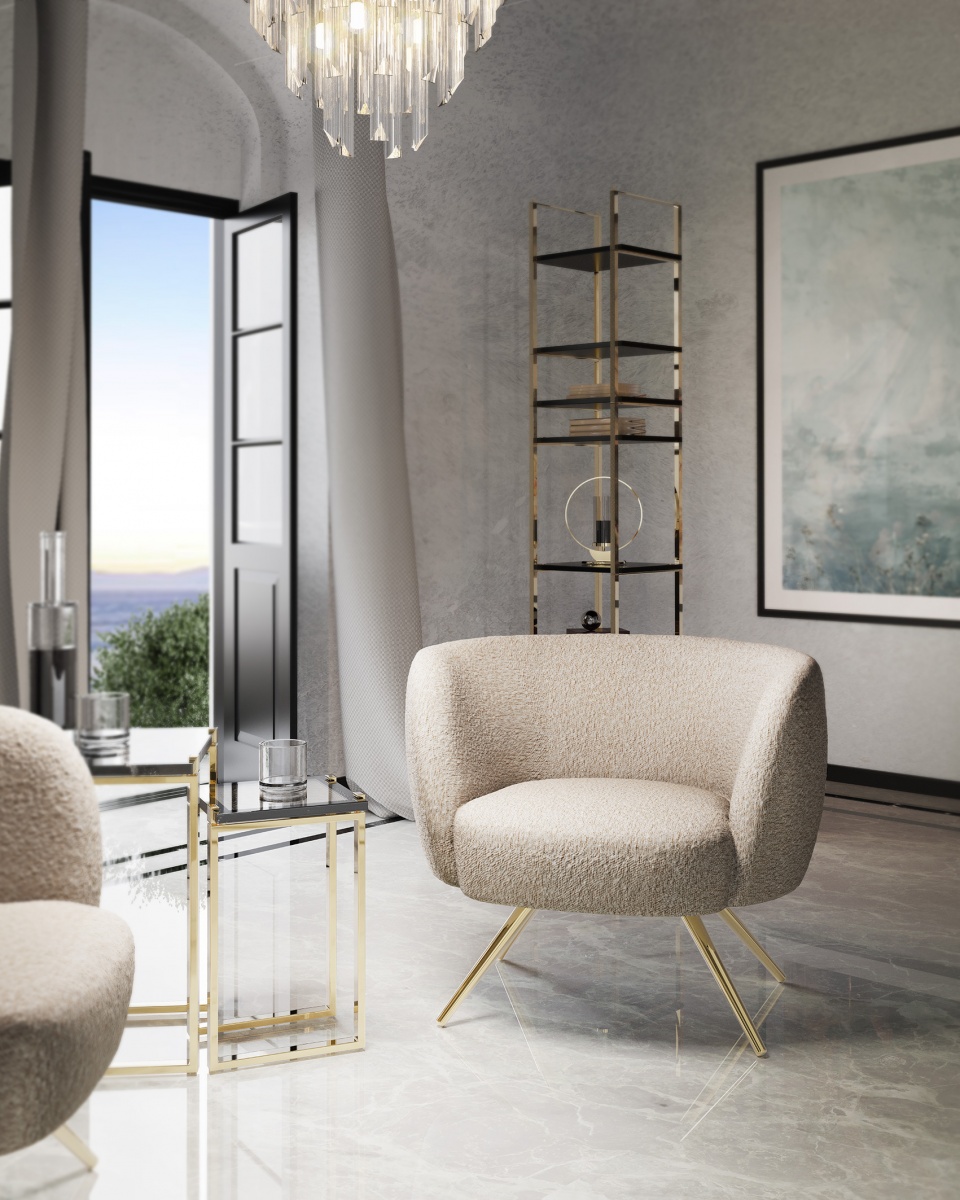 ---