Hotel | Restaurant Design Trends 2022-2023
---
The Fall/Winter season has arrived. And as we approach the final chapter of 2022, the interior design industry is getting ready to welcome 2023 with new color schemes, decor patterns, and everything else that concerns the ideal interior design space. Many beautiful hospitality projects are happening right now, yet plenty of brand-new openings are to start next year. If you are in this kind of situation and you prepare something to purpose your team "how is the lobby entrance hotel in the heart of Paris going to look like?" or " what kind of lighting fixtures should I use to decorate a small chic restaurant in Warsaw?", gather around, Castro team made its research based on the trends 2023 as well as partners choices. So here is the latest roundup on several great ideas to reveal.
EYE-CATCHING CHANDELIER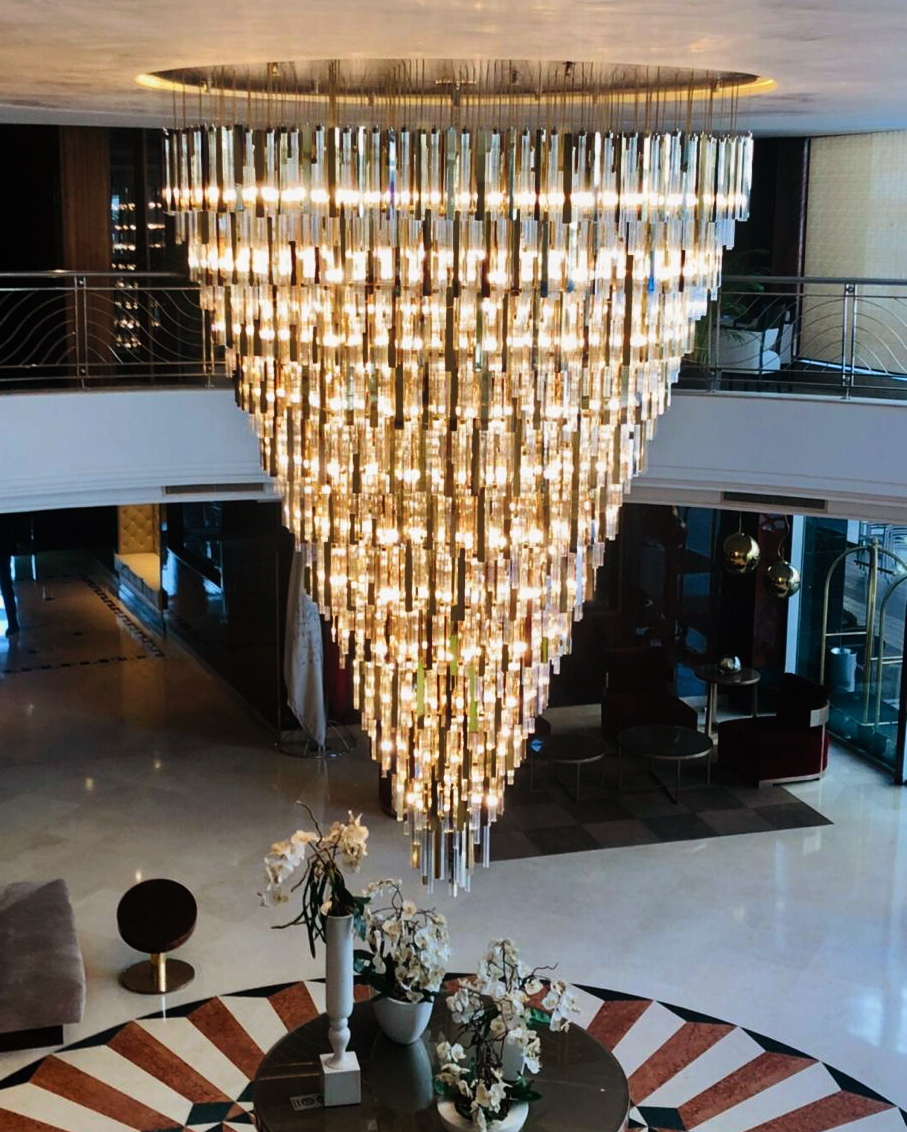 Palace D'Anfa featuring Blaze Suspension in Casablanca
Is there something more impressive than a large imposing chandelier shining bright in the hotel foyer? Perhaps, but the team has no doubts this entrance can stun the visitors with its beauty and unique allure. This fabulous chandelier makes a difference and creates a "wow" effect. Palace D'Anda, a contemporary hotel in Casablanca, Morroco, has a stunning spacious entrance featuring a 3 meters height chandelier with 7 layers of more than 500 single hanging pendants. This luxurious handmade lighting creation has alternating pendants of gold-plated brass, prime glass, and light bulbs to create a blazing effect as the light bursts through the small breaches of space in between. We search through their Instagram mentions, and the guests find it very visually attractive and fascinating.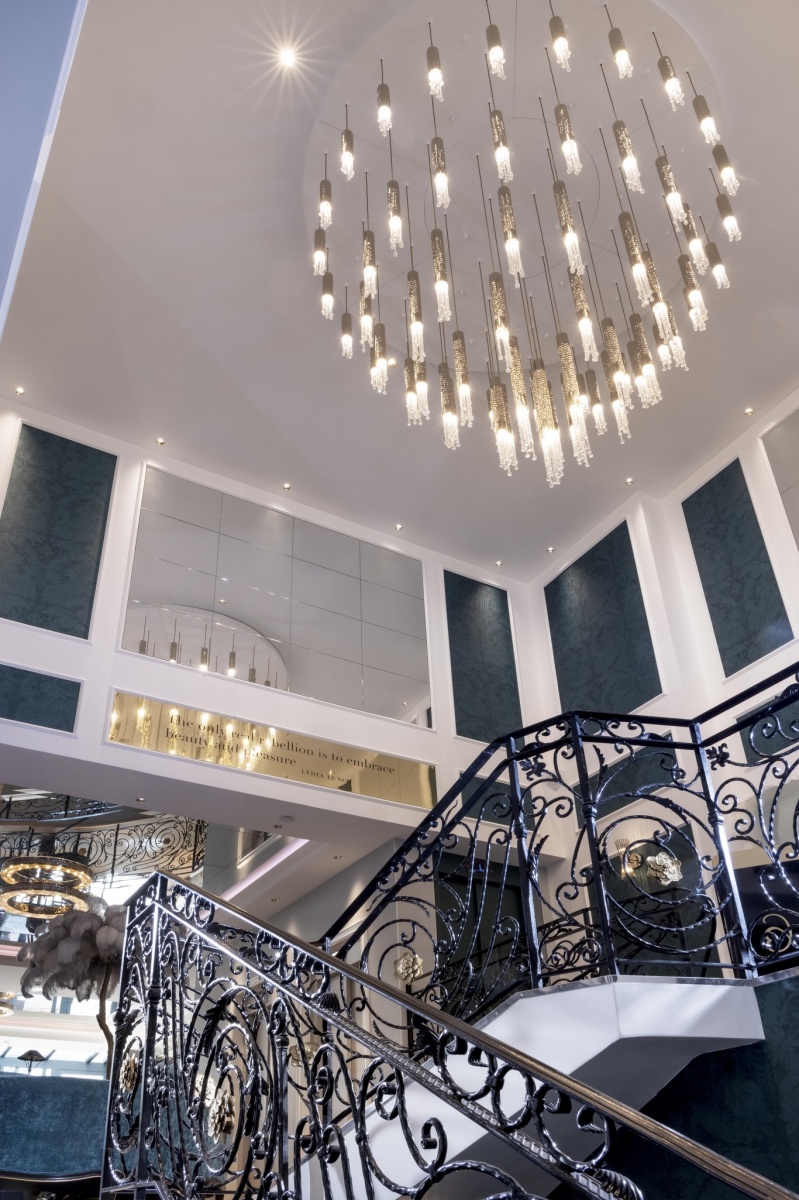 Paris j'Adore featuring Safi Suspension in Paris
A 5-star baroque hotel right in the heart of the French capital, the Paris J'adore Hotel & Spa, is specially designed for lovers. Here everything is tailored and created by passionate craftsmen: a masterful high ceiling chandelier in the entrance, luxury lighting fixtures adorned with gold leaves, blown glass, and sculpted armchairs. The interior decoration is refined and delicate: black marble, golden gilding, velvet, and Venetian crystal.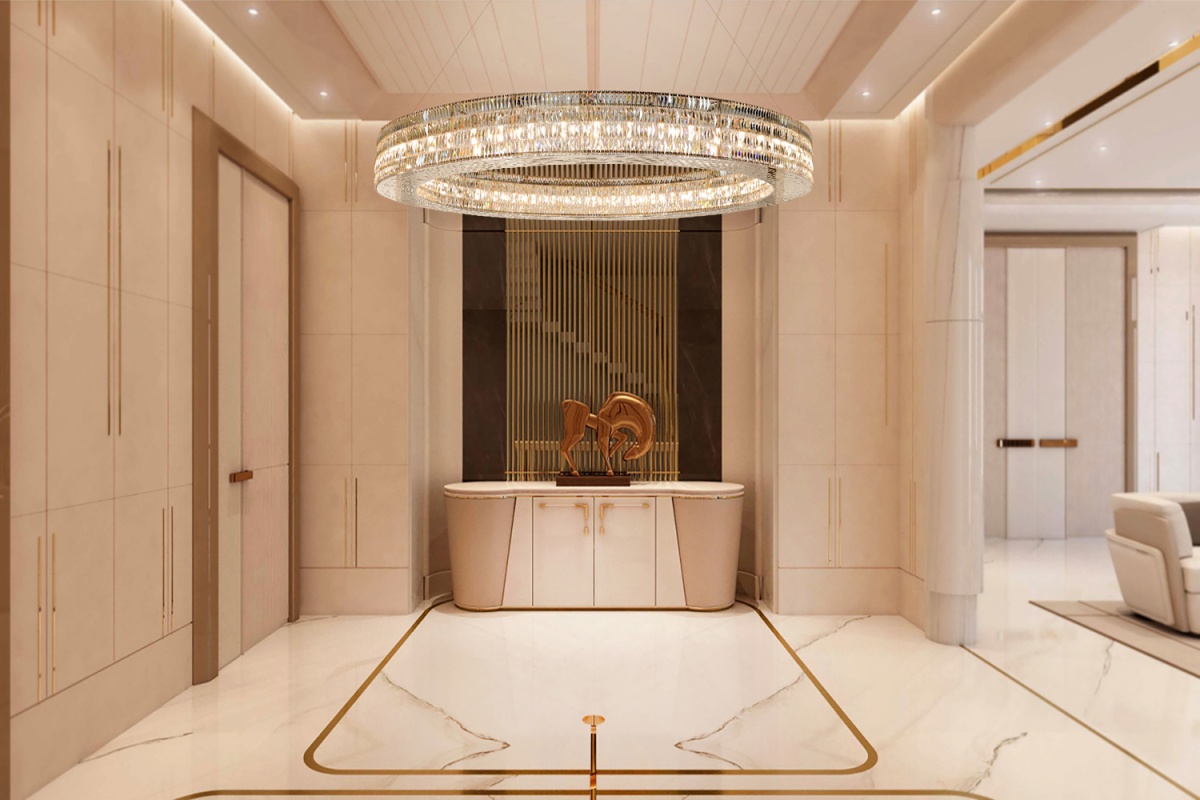 Interior Rendering Project featuring Spacium Suspension II Level
MIX AND MATCH LIGHTING FIXTURES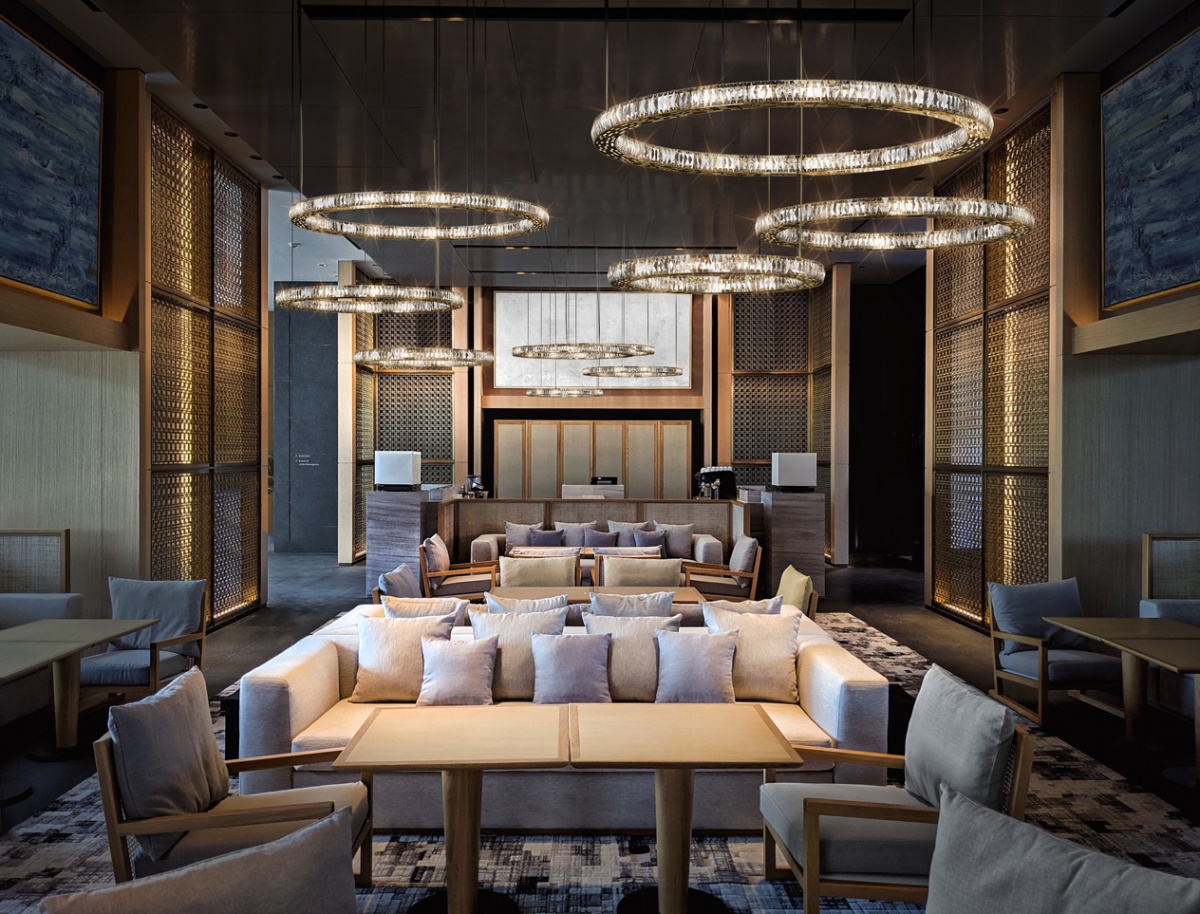 Interior Rendering Project featuring Spacium Suspension I Level
This particular design ambiance serves both hotels and restaurants at once, being a trend that is gaining popularity among several hospitality projects around the globe. Matching circular chandeliers is a more and more common practice among interior designers and architects. It is a great design tool that helps spread the minimalistic opulence conferred by these lighting fixtures.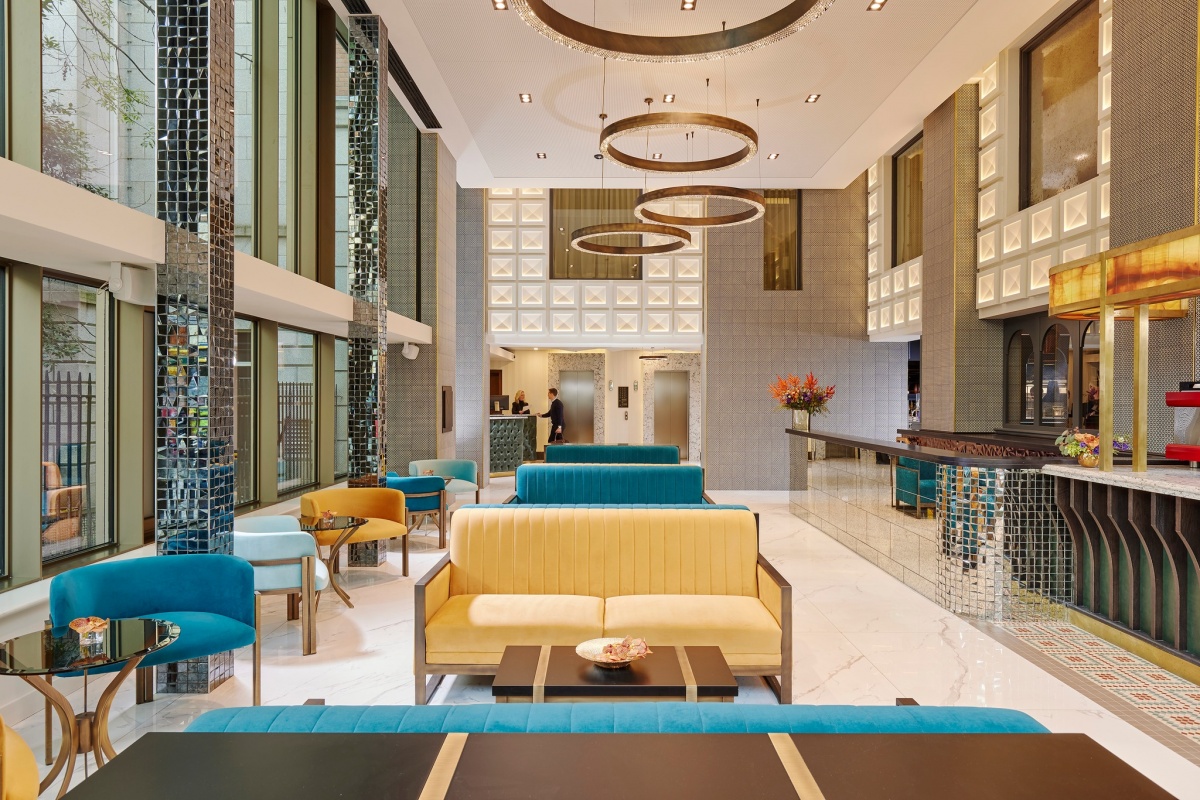 The Grafton Hotel featuring Metis Suspension, in Dublin
Layering light is the key to every well-lit space. Layers help create a personality of magnificence and grandeur, make a statement, set a certain mood, and improve the versatility of any space. In this design, the combination of the 4 chandeliers helps provide cohesion to this large gathering room.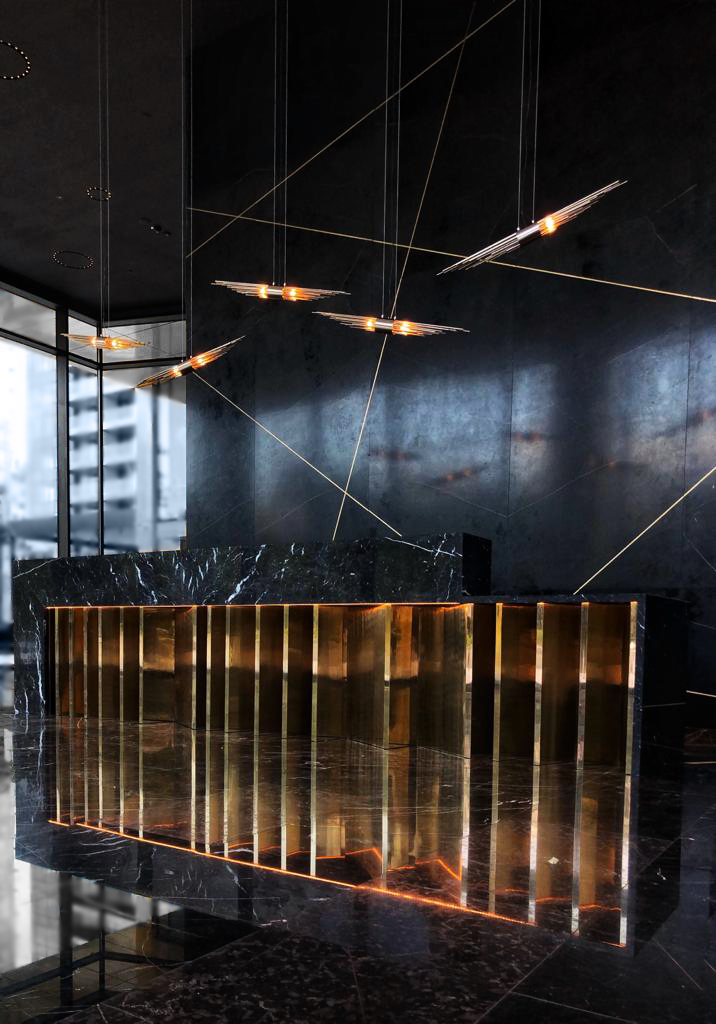 Hospitality Project featuring Streamline Suspension, in Bucharest
In Bucarest, Romania, Lemon Interior Design Studio was challenged to develop this beautiful entrance featuring five Streamline fixtures and a custom Rift console. Here the layering of these fixtures showcases versatility, creates dimension, and sets the mood of the welcoming entrance.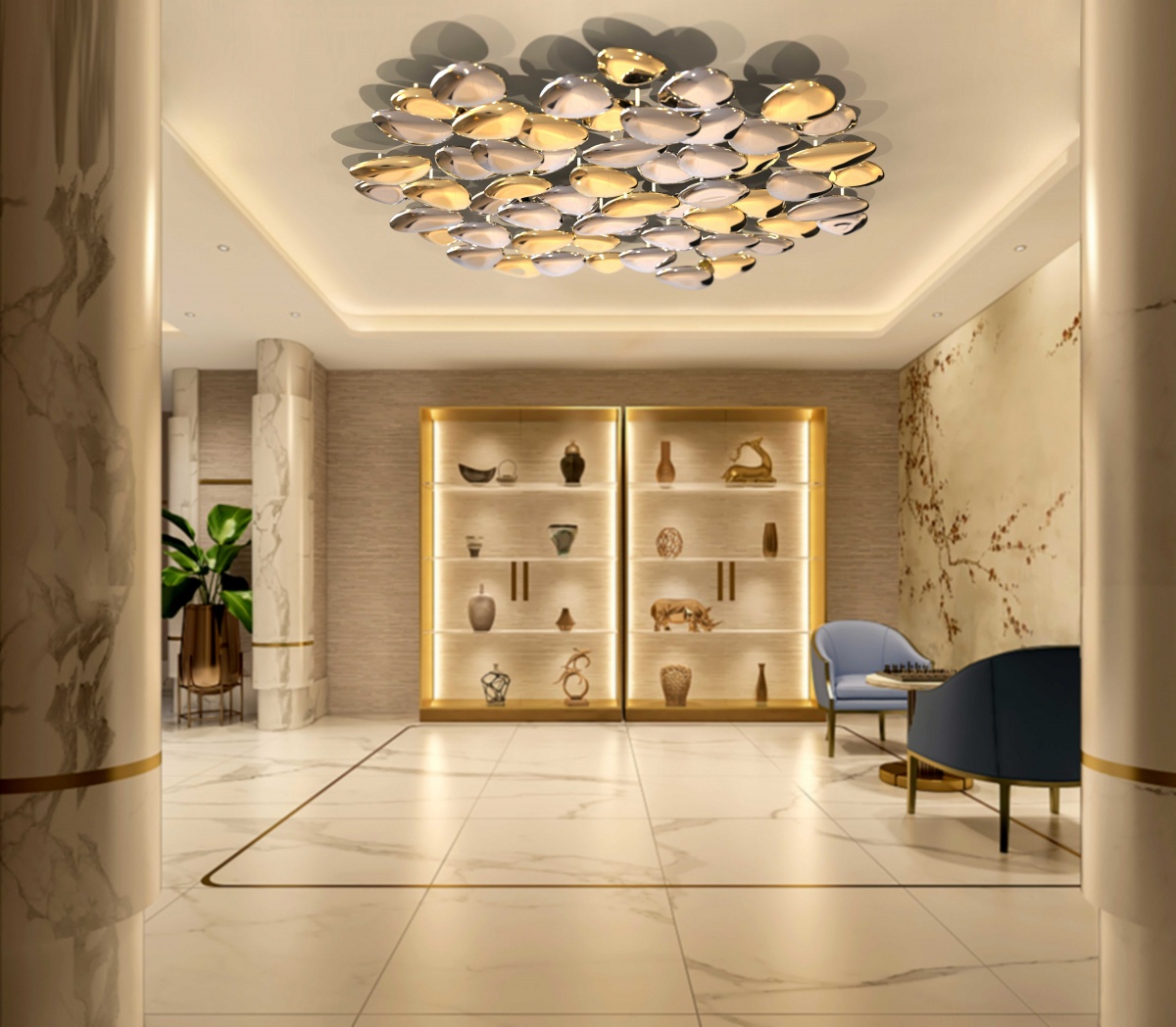 Interior Rendering Project featuring Mastery Plafonnier
RECTANGULAR FIXTURES THROUGHOUT THE CORRIDORS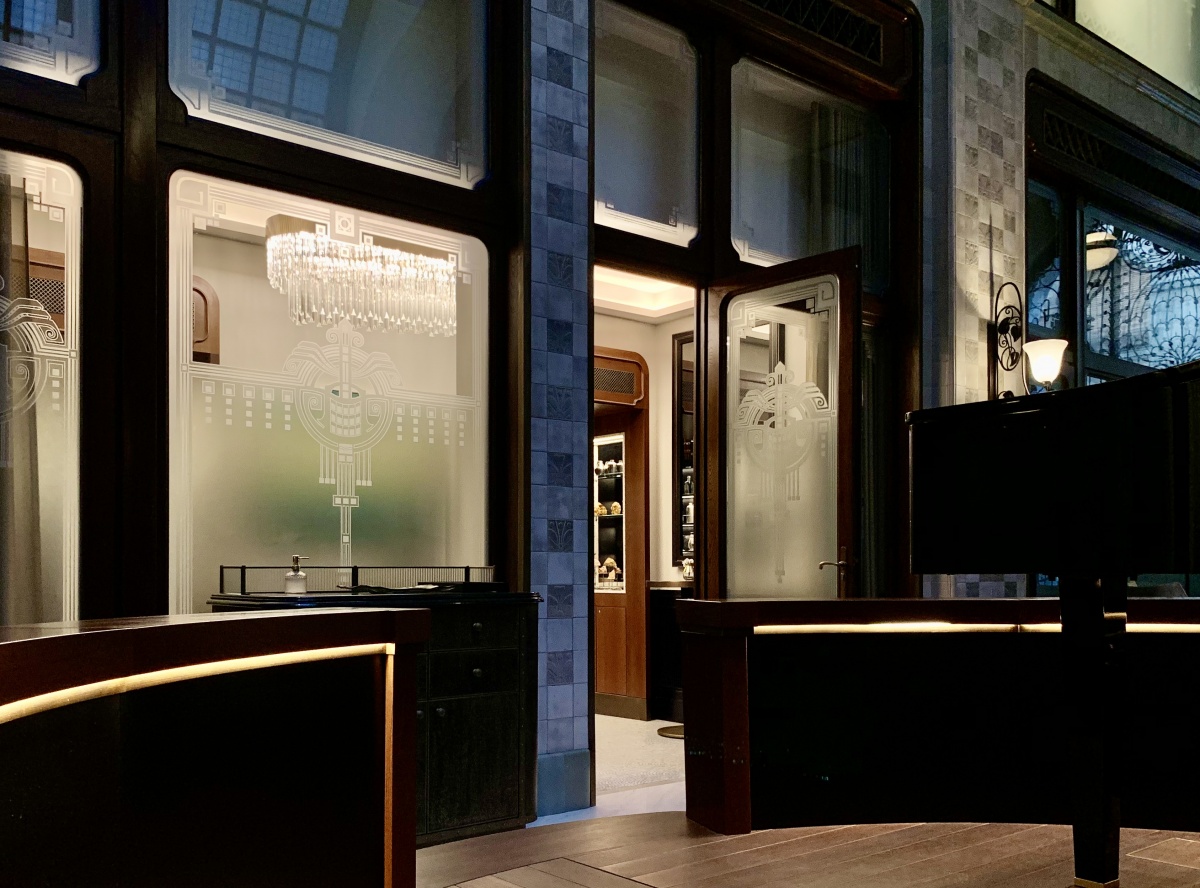 Four Seasons Hotel featuring Kingdom Suspension, in Budapest
Expand the opulence you want to showcase to every area of the project. In this hotel in Budapest, Hungary, the Gresham Palace elevates luxury to the smallest detail. The simple corridor of the hotel showcases high-quality art, trendy color schemes, and a snooker-like chandelier to keep it chic.
Four Seasons Hotel featuring Kingdom Suspension, in Budapest
PENDANT LIGHTING FIXTURES FOR THE BAR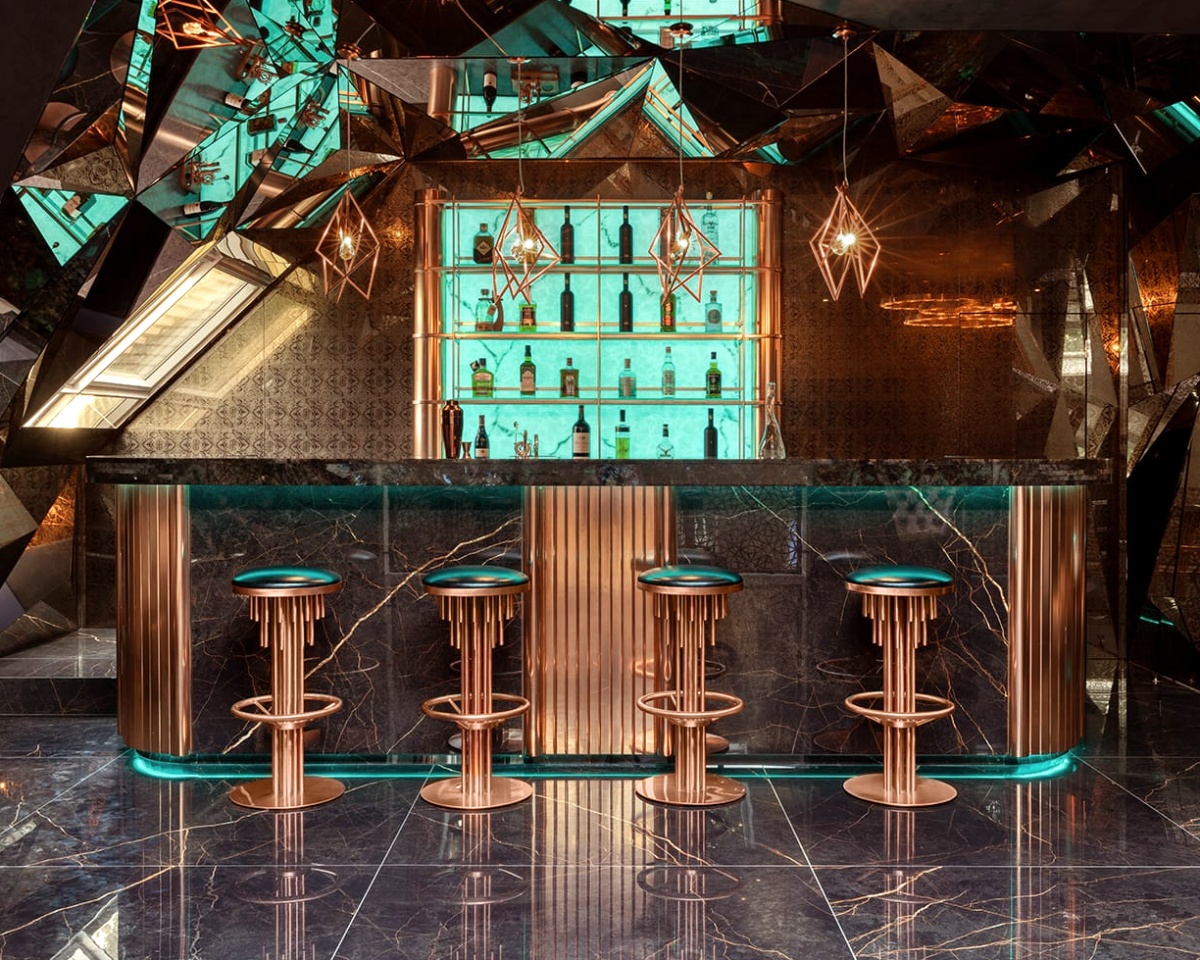 Bar Design project by Astounding Interiors featuring Prisma Pendant and Projection Bar Stool
Although it looks like a common choice, pendant lighting fixtures are still a viable solution to decorate the bar of a restaurant. Bar pendant lighting will add just the right glow to fit with the mood of your guests who enjoy a night out on the town.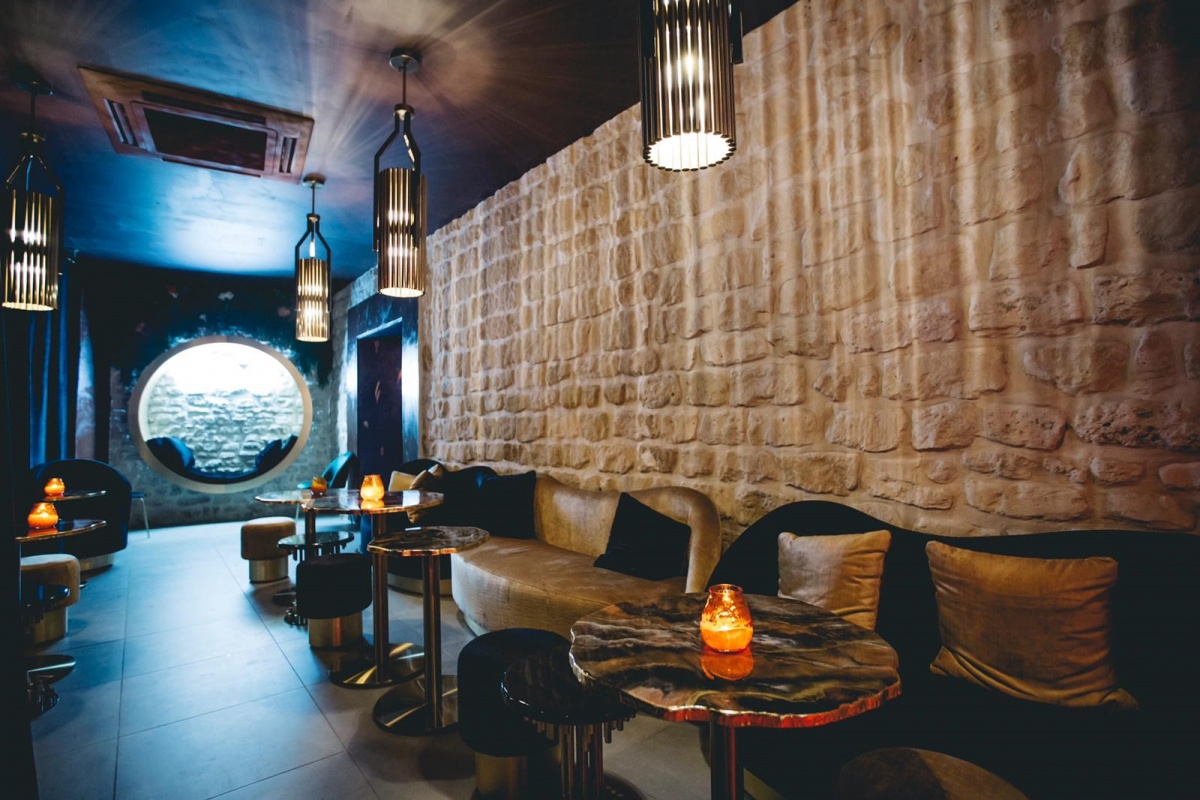 Bar-Restaurant Design project by Daiya Restaurant featuring Avany Pendant and Projection Stool
This magnificent bar/restaurant called Daiya is settled in the 13th arrondissement of Paris. The atmosphere of this place has a touch of aphrodisiac with a darkish bold overlook around it. The Avany Pendant fits in this space due to its functional yet sophisticated style.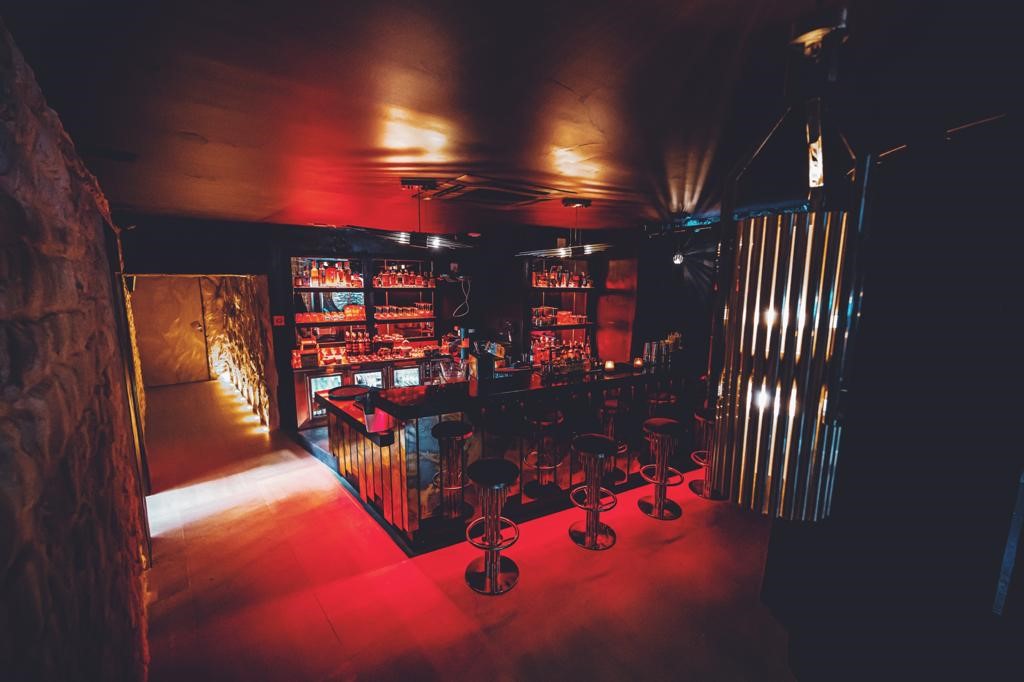 Bar-Restaurant Design project by Daiya Restaurant featuring Avany Pendant and Projection Stool